The screwcap posting from a couple of days ago generated an interesting discussion on The Consumerist about the pros and cons of closures. Check it out.
One thing that came up is that the World Wildlife Fund has proclaimed that using cork–actually tree bark harvested every nine years–is better for the environment. They claim it makes those forests more economically viable, which then reduces the possibility they will be sold for other development (no word on why making it a national forest would not achieve the same goal). And they even invoke the Iberian lynx habitat!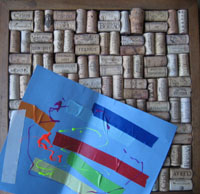 Whether or not using corks is better or worse for the environment, we all no doubt have a cache of corks. I, for one, rarely throw them away (except for those rubber bullet synthetic corks). I even made a cork board out of them once thanks to a frame as a birthday present. What do you do with your corks?
One company in Missouri that specializes in green building materials is encouraging consumers to send in their corks so that they can reuse them. They need 1,200 pounds and appear close to attaining their goal! If only they had recruited this guy earlier on…