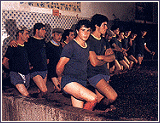 You know that caricature of someone in a vat, crushing grapes by foot to start the fermentation process? You know, the image long-ago phased out in practice for wine? Well, it turns out that nothing beats the foot in Portugal for making port.
Only two percent of all port is still foot-crushed and it is mostly the best ports available, vintage ports. Despite some negative associations, feet are especially good at crushing the skin without crushing the seed–filled with bitter tannins–as well.
Electricity came late to the upper Douro Valley. When it did, in the 1980s, labor prices were high so producers rushed to adopt automated crushing and stainless steel closed-top fermenters. Quality fell. There was just something about those feet. Or oxygen.
The traditional lagares are made of granite and are wide, open-top vats or troughs. Somehow the exposure to oxygen provided a slight degree of oxidation that was more appealing in port, a fortified wine. David Fonseca Guimaraens told me today that his company, the Fladgate Partnership, was among the first in the region to develop mechanized foot-like pistons in open-top stainless steel vats. I didn't ask if the pistons had toes. But Guimaraens did say that the added labor of foot crushing made it twice as expensive as mechanization.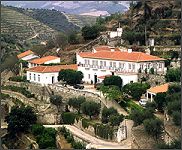 I tasted a sample of each of the three methods, foot-trodden from a stone lagar, piston-trodden in a stainless steel tank, and closed top.
The last one was quite hollow in the middle with elevated, aggressive tannins. The piston-pressed one was much more complete, with a beginning a middle and an end with good freshness. But it was the lagar sample that had the most layers of complexity. Then there was a blind sample just to see if I was paying attention. Fortunately I got it right (the odds were good though).
In the ongoing discussion about wine and technology, it's a cute story of the advantages of simplicity. But technology is on the march. Guimaraens says in five years, the pistons could catch the feet. They'd better keep running.