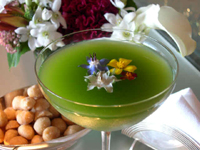 Brian Van Flandern recently answered my cocktail questions. Now he's back and responds to yours.
Anonymous asked:
Has there ever been a decent cocktail made with still wine?
Brian:
Absolutely. There are many great cocktails that use wine as an ingredient. I myself have created several recipes that are greatly enhanced by the presence of wine. Sangria is made with wine and brandy for example. Try making a classic mojito (fresh lime juice, simple syrup, aged rum and Muddled mint) then add a modest splash of Pinot Noir. The result… a Burgundy Mojito. It tastes like a mojito up front with a pleasant slightly tannic sangria finish.

Kim asked:
How can I make my own Tonic Water?
Brian:
You stated that you are allergic to High Fructose Corn Syrup. This is not an uncommon allergy. I am NOT a doctor, so please make sure that you are not if fact allergic to quinine!
To make your own tonic, simply add a 16th of a tea-spoon of quinine powder to your base spirit (less is more) along with fresh lime juice and simple syrup. Shake this concoction vigorously WITHOUT ICE. The glycerin in the alcohol with dissolve the powder so that it does not clump or float on top.
Now fill a highball with ice and pour the mixture up to 50% full. Fill the rest of the glass with your favorite sparkling water. I use TyNant from Wales. It has smaller bubbles.
Finally, toss back and forth a couple of times and garnish with a lime. As always think ACID, ALCOHOL & SUGAR. Taste the drink and adjust it slightly by adding the component that will bring it into balance (i.e. add sugar if to tart, lime juice if to sweet, more gin if not enough booze, etc.) ENJOY!
Anne said:
Is a vodka – 7Up with two limes a balanced drink? If not what would you suggest is a good ratio for balance?
Brian:
Yes it is. There are many factors in determining ratio vs balance. Bottom line…Approximately 1 1/2 of alcohol, the juice of one lime and fill with 7-UP then TASTE. Follow the rules of balance (see KIM's question) and you can't go wrong. Remember…ACID, ALCOHOL & SUGAR. Balance, balance, balance.

SGSalerno said…
Thoughts on ice's impact on cocktail making:
Ice is EXTREMELY important. The smaller the cubes the more dilution. It is GENERALLY desirable to have bigger cubes. Get the oversized ice cubes tray for home (like granny use to have). The quality of the water is also very important. Don't fill up straight from the tap. Use filtered or bottled water. It makes a difference. There are applications for smaller cubes and crushed ice (the Mint Julip for example), however those are exceptions to the rules and are meant to be consumed quickly. Good luck.
If you have further question you may contact me at:
Brian Van Flandern
Creative Cocktail Consultants Corp.
www.MyMixologist.com