Brian Van Flandern was the man behind the bar for three years at Per Se in New York. Now he's on his own revamping the list at Bemelmans Bar at The Carlyle among other places. Since he's a a pioneer of food-friendly cocktails and has made many a cocktail for wine lovers, I thought if anyone could talk to us about cutting-edge cocktails, he's our man. I caught up with him earlier this week.
If you have a question for Brian, post it in the comments below! He has said he will respond to the three reader questions.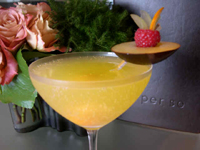 Dr. V: Why should wine drinkers be interested in cocktails?
BVF: It's a fun time in cocktail history. Last year was the 200th anniversary of the word cocktail in print. But only in the last decade or so have we moved out of the Betty Crocker era. The top chefs are sourcing meat and vegetables from growers, taking advantage of the terroir–wine is all about terroir.
Mixologists caught up with chefs in the last three or four years seeking out fresh ingredients, making their own tonics and tinctures. Ironically it is cutting-edge but also a throwback to a pre-Prohibition philosophy, when bartending was highly respected. Bartenders took care in making cocktails and sourcing ingredients, even if it took a long time to get them.
Now the cocktail is coming back as a wonderfully balanced libation. Cocktails are approaching the alcohol levels of wine at around 20-25 percent alcohol by volume and not the 35-40 percent alcohol that people may be used to. The alcohol level comes down with ice melting, adding juices, mixers, you end up with a cocktail just above some wines in terms of alcohol—and food friendly too.
A new generation of master mixologists is emerging. Culinary students are bringing food sense to mixology, and we're starting to see a very professional mentality. And, thanks to FedEx, we're able to source fruits and spices and unique food products that we were not previously accessible. You can have Australian finger limes any time of year. Same with Buddha's Hand. Even fresh pomegranate juice was not available 5 yrs ago. Litchi, rambutan—these are all new flavor profiles.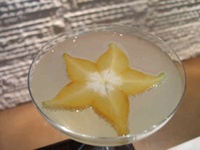 A lot of times cocktails are just too sweet. Why? And what can a drinker do about it?
Yes. During Prohibition they were making high alcohol cocktails that were very poorly made. They threw a lot of sugar in there. The goal was to get schnockered before the cops busted down the door.
Reunite on ice was the bomb back in the day. So was box wine. But we have witnessed how wine has changed in the past 20 years. Now not only do we have cabernet sauvignon, but also gruner veltliner, tocai friuliano and so on.
Cut back to cocktails. They were all booze coming out of Prohibition—think Manhattan, martini, and Rob Roy. Then in the 1970s, there were the ice cream cocktails, the blended and frozen umbrella drinks. There were even sweet liqueurs like Kahlua, Frangelico, and Bailey's. If a cocktail is not balanced, people can balance their own by requesting either a simple syrup or lemons and limes from the bar.
Now we're latching on to the lessons of pre-Prohibition and applying what we have access to today.
Sounds good to me. What's a red flag for people to know if the bar is not in this new generation?
Look around. In almost any bar, somebody is drinking a cosmopolitan. If it is clear, if it is red, I would be hesitant. If it is cloudy, bubble gum pink I would be intrigued.
Or ask "How do you make your cosmopolitan?" If they say they use Rose's lime juice–get out! Run!
No fresh juices? That's a red flag. If you listen and you don't hear the "thwacka thwacka" of the shaker more than three times, that's another red flag. Shaking drinks provides dilution, a nice texture and reduces the alcohol level.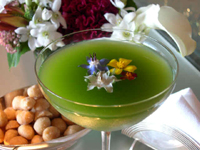 So what are the basics of making a cocktail?
Start with the base spirit—1 oz to 1 ¼ oz. Then add the modifiying spirit—just for flavor, like vanilla extract in cooking, not for alcohol–¼ oz to ½ oz. Then add mixers—fresh juices, soda water, cola, and so on. Incrementally build the cocktail. The mixer is going to provide sugar or acid–if you use a mixer of Sprite, add some lemon or lime to balance that out. If you're using orange juice, it's high in sugar and acidity and may not need anything else. Lime juice is tart needs simple syrup or, say, pineapple juice.
Acid, alcohol and sugar, that's the mantra. Balance in proper proportion.

Flavored vodkas: is there one worth buying?
Yes, but I always use flavored vodkas as a modifying spirit. The vast majority of them have a very chemical finish. They smell wonderful–just like lemon, raspberry and so on–but you always wince on the finish. They should be used in moderation as a modifier not as a base. I also don't mix vodkas made from different base products such as wheat, potatoes, barley—I use the same base vodka and the same modifier.
What's the best vodka for making mixed drinks?
I like Ciroc with juices because it is distilled from grapes. But I don't care for Ciroc as a traditional martini vodka. Belvedere is good and crisp. It's from rye and is viscous, has more glycerin. For olives, I like rye vodkas.
The cosmopolitan was born as a promotion for Absolut Citron.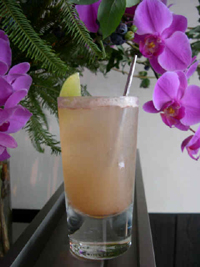 When you were at Per Se you made your own tonic water for your "tonic and gin"? What's your beef with Schweppes?
Ha. Mass produced tonic water uses a quinine derivative, which is assertive in flavor. In an effort to balance it they use high fructose corn syrup. I use raw quinine powder in its natural state, which is much less sugar by volume. I should add that the HFCS is in American tonic water—I've had Schweppes in Spain that is delicious.
All right, rapid fire now. What are the top ten cocktails that people should know how to make at home?
1. Sidecar — a classic and very tasty
2. Margarita
3. Negroni
4. Aviation
5. Daiquiri/Hemingway daiquiri
6. Manhattan
7. Classic martini—gin or vodka
8. Mojito
9. Cosmopolitan
10. Bloody Mary-–actually quite a complicated process
What's the most useful tool for the home cocktail maker?
A juicer! Fresh juice is so important.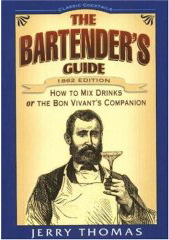 What are some good cocktail reference books?
Craft of the Cocktail: Everything You Need to Know to Be a Master Bartender, with 500 Recipes, by Dale DeGroff
The Joy of Mixology, by Gary Regan
The Bartender's Guide on how to mix drinks (1862 edition), by Jerry Thomas,
Killer Cocktails: An Intoxicating Guide to Sophisticated Drinking, by David Wondrich
When can people come visit you at Bemelmans Bar at the Carlyle?
I'll be there with all new cocktails—and none of those ten I mentioned—as of March 20.

What's the most underrated cocktail?
Brandy Alexander
And finally, if you were exiled to a desert island and could have one last cocktail, what would it be?
A sidecar.
Related:
MyMixologist.com, Brian Van Flandern's web site
"Riding sidecar with Brian Van Flandern" [Dr. V]