Mrs. Vino likes sidecars. Ever since Eric Felten stopped by the blog to tell us about the classic cognac cocktail, I've been making them at home. I even bought a cocktail shaker. Follow this and you'll be mixing like a champ: 4 parts of VSOP cognac, 1 part of Cointreau, 1 part fresh lemon juice and shake over ice. Strain into glass with sugared rim.
So when I was invited to a blending seminar with Brian Van Flandern, I leapt at the chance to upgrade my game. Not only was this an opportunity to get some live instruction, but some top-notch instruction at that. Brian just left his position as mixologist at Per Se after three years behind the bar–or "inside a tall chimney-like structure" as the NYT described his workspace.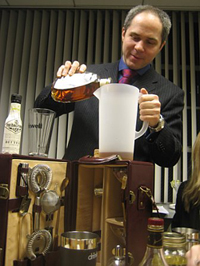 We tasted through a bunch of the youngest cognacs, VS grade, and I found them to have a kind of sweetness, not a long finish, and a lot of peppery heat, the sort of burn that usually keeps me away from distilled spirits. With Brian's encouragement, I added some water to my glass and the aromatics intensified (as I had seen in Cognac). He explained that a similar thing happened when making a cocktail using ice: the temperature decreased, obviously, but the melted ice intensified the aromas. A stand-out at the VS grade was the Frapin VS (about $35, find this cognac).
Stepping up to the VSOP grade, I found the cognacs much more sippable, more integrated, with a longer finish. We tasted some very fine XO cognacs too but I'll save that for a posting of its own next week.
So Brian whipped out his traveling bartender bag with so many gadgets it would make 007 jealous. He said that the key to a good cocktail is a balance of sweet, acid and alcohol. So in the sidecars I'd been shaking at home, the base alcohol, cognac, mixed in with the modifying alcohol, cointreau, with the acid of the lemon juice and the sweet of the sugar on rim.
Brian started pouring things into his pitcher. First went some Hine Rare VSOP cognac (about $50 a bottle; find this cognac).Then some Cointreau. Then some lime juice. Then some simple syrup (sugar dissolved in water) followed by a few dashes of Fee Brothers bitters. He poured that into a cocktail shaker, shook it vigorously for longer than I had been doing at home.
He poured the resulting blend into a martini glass and garnished it with a lime wedge. It was foamy. Then he reached over and ground some fresh nutmeg on top. Perfection! Brian said that he doesn't need to measure since he knows the ratios from lots of practice. Nor did he have a name for this particular drink.
We tried another round with VS cognac and it was decidedly less impressive. I'm still not sure what to do with VS cognac since VSOP seems the way to go since it is good enough to be sipped or blended. As with so many things, this showed me that better the ingredients, the better the cocktail.
So a couple of days later I picked up some bitters and made some simple syrup. I found some nutmeg and ground it. I added the ingredients and shook it up. I served it to Mrs. Vino in a low tumbler glass. The unnamed cocktail was declared delicious. It was worth taking Brian's souped up sidecar for a whirl.
MyMixologist, Brian Van Flandern's web site