No doubt stung by his Dr. Vino demotion to rural town council last week, Nicolas Sarkozy, Minister of the Interior and a leading candidate in the race for the French presidency, has now announced that he is in favor wine reform.
After the Revue du Vin de France reported that he does not like wine since he's too busy ("you cannot reconcile alcohol with frenetic activity"), he got a raspberry from this web site.
But now that wine-lover Segolene Royal is gaining ground in the polls, Sarkozy is making nice with wine producers! The BBC reports that he actually tasted local wine while campaigning in Sancerre! No report on whether he looked "dour" as he did during a sherry tasting in Spain. (Be sure to send photos of him in Sancerre if you find them.)
Not only that, but he is now trying to curry favor with wine producers by intimating that he might remove tight restrictions on advertising wine in movie theaters and on TV that date from 1991. "Wine cannot be lumped together with tobacco or drugs", Sarkozy told the local wine producers.
As if that weren't enough to bring the downtrodden French winemakers to his side, he "promised to protect French wine producers, vowing to bar from the market imported wines which fail to match the domestic wines' quality." Whoa, Nico. While lifting the advertising restrictions is a good thing, who would be the Senior Minister for Wine Quality?
Still, this pandering to wine producers raises Sarkozy's Dr. Vino rating to: member of the National Assembly.
Related:
"Sarkozy woos French wine makers" [BBC]
"Leaders and liters of wine: French presidential contenders 2007" [Dr. V]
UPDATE: Leave it to Bertrand, wine photographer extraordinaire, to tip us off to a photo of Sarkozy tossing back the Sancerre. People came from near and far to behold the busy man take time to sip some wine.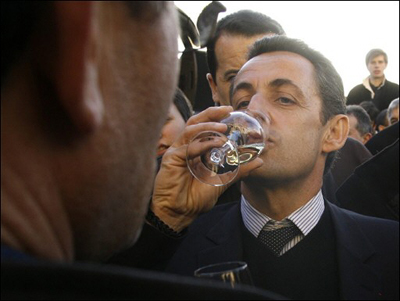 tags: wine | French wine | French elections