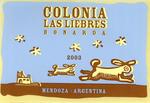 I'm always on the quest for wine bargains. Sure, Napa cabs can be great but they're often expensive. Ditto many Burgundies. We need a wine for Sunday – Thursday.
Behold Colonia Las Liebres (Rabbit Colony), our current house red. I bought a bottle for $8 and thought it was remarkably decent. Then I hunted on the web and found it for $5 a PJ Wine (map it) in Manhattan. But wait, it gets better: there's a case discount that brings it to $4.49 a bottle or the insanely low price of $53.88 a case. I had two cases delivered yesterday. I figure that should get me through the end of February. Oh wait, that's Wednesday. OK, maybe a little longer.
The wine is an unoaked, unfiltered bonarda from Mendoza, Argentina. It is an unbelievable value. It has some bright purple fruit balanced against pleasant acidity and easy tannins. It's gulpable. It's now my official burrito wine but I've had it with pasta and would love to try it with barbeque. Is it a little bit rustic? Try it and let me know your thoughts…It's made by Marco de Grazia et al. at Altos de las Hormigas in Argentinta (Michael Skurnik, importer). Scoop up as much as you plan to consume between now and July. And say adios to Two Buck Chuck.
(note: the 06 label has the same image but with a white background)
tags: wine | value wine