On a frigid day last week, I traversed the frozen tundra bundled in a coat, scarf, hat and gloves to attend a tasting. It wasn't the ordinary type of tasting I attend: a man with a kilt greeted me. I didn't ask him if he was, um, wearing the proper insulation given the fact that it was 20 degrees below freezing. But since he was a Scot and his bare knees were visible, I doubt it. [shudder]
The tundra was actually mid-town Manhattan and, fortunately for me, the tasting was of warming single malt whisky. The producer Bowmore is introducing some new packaging, new single malts and extended an invitation to me. Even though my bailiwick is wine, I figured it was worth a shot to check it out in the name of exploration. After all, I just went to cognac so why not explore another of the oak-aged spirits?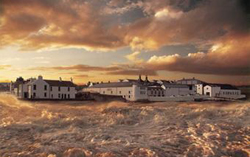 Bowmore, fully-owned by Suntory since 1994, is a top 10 whisky brand and has experienced 222 percent growth in recent years compared to a five percent growth for whisky overall. Despite this torrid growth, management is preparing a 20 million pound advertising campaign in the next few years.
I sat through a powerpoint slide show of of the island of Islay, the distillery, and the labels to David Bowie's "Changes." On the topic of the island, I always love to improve my English so I was pleased to learn how to pronounce it correctly: eye-luh, not iss-lay the way I had said in numerous duty-free stores. The floor-malted barley will stay but the distillery and surrounding buildings have undergone some changes. Some cottages available for tourists while locals and tourists alike can enjoy a new swimming pool heated with excess heat from the distillery.
On the labels and packaging, not exactly a riveting topic for consumers, the arching Bowmore has been retained, the label is less cluttered, and they have substituted copper for gold to be more reminiscent of the stills.
There's also a noticeable shift in the style. Wine lovers might be amused that whisky producers rejoice in using other people's old barrels. A favorite has been the previously used bourbon barrel. But the trend now seems to be finishing the aging in old sherry barrels of 500 liters. This type of barrel adds greater aromatic intensity and shifts the aromas from the briney, peaty overtones to sweeter, more complex notes of dried fruits. More cognac-like, in fact, now that I have experience with 'yak. Why are they doing this? In part, one representative said, it's the Americans who like it sweet.
That reminded me not only of Yellow Tail and its 30 grams of residual sugar but of a great quote I read in the NYT last week. "When I go back to the U.S.A. everything seems sweet," Brian Silva, an American who has tended bar in London for 25 years said. "Flavored vodkas, flowers and bits and pieces — pinkie-raising drinks. No. All my cocktails are made with alcohol."
This stylistic shift also makes Bowmore more Macallan-like. Similarly, Bowmore is also retiring their 17 year old and replacing it with what is now the more standard 18 year old complete with extended sherry barrel aging.
Turning to the whiskys themselves, the introductory Legend (find this whisky) with eight years aging is easy drinking and a good value for $25. The Bowmore people even said it was OK serve this one on the rocks. But all I could think about mid-winter was a hot toddy.
The 12 year old (about $45; find this whisky) has more depth and almost honeyed richness to accompany the signature smokiness and peat notes. A peppery burn kicks in on the warming finish.
The "Darkest" 15 year old is indeed dark as we enter into the sherry cask zone with three years in sherry casks. More smokiness, but mellow under a toffeed richness. (find the Darkest)
The 18 year old, brand new to the market, was the most alluring thus far exhibiting wonderful peaty, smoky richness complemented with aromas of dried sultanas, toffee, and a subtle chocolatey-ness. Hugely warming and smooth finish. Darker in color, this blend saw 50-50 bouron-sherry casks. Despite the $85 price tag, this is probably the one I would buy since I drink whisky at the rate of one bottle per decade. Might as well make it good. (find this whisky)
The bad news is that not all the whiskys are available right now but will be arriving in the coming weeks. The producer splits the product line into a "core range" available in shops and a "duty free range" that is only available where the name implies. At the request of the influential duty free shops, the bottle sizes and ages available at duty free shops are different form the stores to prevent easy price comparisons. Those crafty duty free people…But I preferred the "core range" anyway.
Check for the latest at the Bowmore web site.
tags: whisky