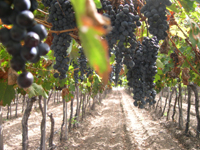 Rustic, is it good or bad for a wine?
Charlie, a participant in my last NYU class, cited it as the reason for his taking the class. He said that a friend had served him some wine recently and described the wine as rustic. Charlie had to find out what that meant.
I heard the word again yesterday at a tasting of wines from the Alto Adige region of Italy. One producer described lagrein, a grape variety, as rustic. So what is "rustic"?
I think of rustic mostly as a good thing. When discussing good value wines, I think of it as off-the-beaten-path varieties or regions that maybe have some quirks or rough edges but also have a certain undeniable charm, particularly in the face of a pasteurized, homogenized wine in an "international" style. One importer used the term "rustic authenticity" to underscore this difference. For varieties I think of connonau, aglianico, falanghina, pinot d'aunis, carignane, or moschofilero. For regions I think of Fitou, Cahors, Basilicata, Sardinia, or the Halkidiki among others. Few of these wines are meant for cellaring–they're meant to be enjoyed soon, with a good meal.
I suppose if the term were applied to high end wines, such as Burgundies, it would be interpreted as a bad thing or a flaw. But in the context of good value, everyday drinking wines, it's something to seek out even if it does mix in some clunkers with the charm.
What are your favorite "rustic" wines? Can a new world wine be rustic?