Tired of high alcohol levels in your wine? Want to tone down the "fresh cut grass" in your sauvignon blanc? Heck, want to turn your red wine into white?
Behold the future is here! Kraft brings you "programmable" food and beverages. Roll the tape from The Observer (UK):
The processed-food giant Kraft and a group of research laboratories are busy working towards 'programmable food'. One product they are working on is a colourless, tasteless drink that you, the consumer, will design after you've bought it. You'll decide what colour and flavour you'd like the drink to be, and what nutrients it will have in it, once you get home. You'll zap the product with a correctly-tuned microwave transmitter – presumably Kraft will sell you that, too.

This will activate nano-capsules – each one about 2,000 times smaller than the width of a hair – containing the necessary chemicals for your choice of drink: green-hued, blackcurrant-flavoured with a touch of caffeine and omega-3 oil, say. They will dissolve while all the other possible ingredients will pass unused through your body, in their nano-capsules.
While the Observer article only mentions nanotechnolgy as being able to "turn red wine into white," Neil Pendock cranks it up on wine.co.za

Goodbye cork taint, hello programmable alcohol levels – nanotechnology can deliver solutions to the age-old problems of wine… Feel like a glass of Sauvignon Blanc? Switch on the green peppers (capsicum if you feel in an Aussie or pretentious South African mood). Syrah? Dial up some wood smoke, sweaty saddles and spice.
I've had wines that express the terroir and wines designed for focus groups. But I've never tried a do-it-almost-yourself (with-the-help-of-microwave) "wine"! Nano-wine, I'm putting you on notice!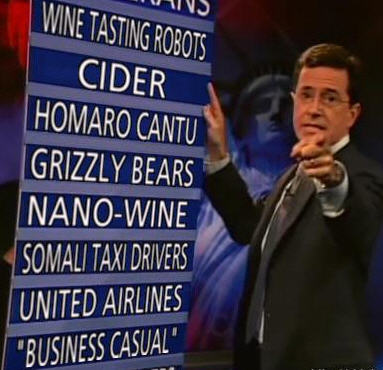 Related: "Who's threatening us now: United Airlines!"
tags: wine | nanotechnology