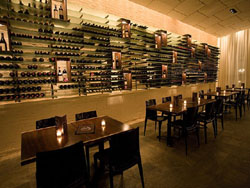 Another couple of dozen of us met up at Wined Up early Friday evening. It was great to see many new people at the meetup including one site reader from Colorado. He was in town for work and decided to stop for a flight of wine before his flight from Laguardia (wise man).
Everyone agreed that Wined Up has a great aesthetic. The one long wall with backlit bottles is a great look. Another wall has some gnarly grape vine cuttings running up it.
And it was good for us that the venue remains somewhat "undiscovered" since we were able not only to hear each other but also to grab some seats at the bar. Many wine bars in NYC are often too cramped or too full so talking and sipping with ease should not go unrecognized.
The wine list has a couple of pages of red, white and bubbly by the glass. The selections are solid (if somewhat ho-hum for die-hard wine geeks) and affordable since the glasses run from $6-$12. Interestingly, there are no flights on the list but if you want one they will make one for you. One among us told the bar tender that he wanted a flight of "big reds." The friendly bartender asked him how many to which he replied four. And voila four reds were poured into Riedel O glasses and the bottles lined up behind them. Nice display.
Another in our party wanted to pick out her own wines so she selected a flight of five whites. Presto, five whites in the "O" glasses with the bottles behind them. I tried a glass of white, the Don David Torrontes from Argentina (find it), to go with a small cheese platter (they have Jasper Hill "constant bliss"–a must try!) but found it to be too cold especially given the wintry weather. But in the glorified tumbler that is the "O" glass, I was able to warm it up quickly in my hand. Other cured meats, cheeses, and small bites are available.
Here's how to find Wined Up:
913 Broadway, nr. 20th St. Map it
Second floor above the restaurant Punch (signage is not great but it's upstairs)
Flatiron District. Tel: 212-673-6333
And stay tuned for our next stop on the NYC wine bar crawl, probably next month. I'll post the details here with hopefully enough notice so that you can join us if you haven't already…