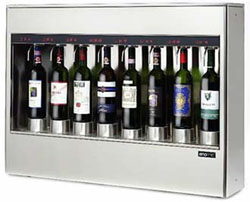 This just in from a Washington, DC tipster:
The new Whole Foods store that recently opened in Fairfax has a secret wine tasting room and cellar upstairs from their main floor wine area. It's not marked or advertised but upstairs are dozens of by the pour/nitrogen flushed bottles of all manner of wines in all price ranges. The customer buys a card that is inserted into the card reader at the selected wine and then designates the pour size. The cost by the pour is deducted from the clients card. A great way to sample some primo vino and I expect it will evolve into a destination for those that really want to expand their horizons in what would otherwise be inaccessible wines! I need a machine like that at my house!
A call to the store revealed that, yes, the store has ten of the Italian "enomatic" machines that substitute capital for bartenders. Each machine costs $10,000 and holds eight bottles. The 30-seat upstairs "enoteca" with a "bridge view" of the store itself is not so much a secret as it is yet to be signposted–the store opened on January 17. Props to you, tipster, for having sniffed it out.
Pours are available in one, three, and five ounce sizes and range from $1 to $30 an ounce for the 1996 Domaine de la Romanee Conti Echezaux (find this wine: WF price is $600 a bottle; another nearby vendor has it for $350 if you decide to go nuts and buy a whole bottle). Cheese and olive plates can be ordered from downstairs–no word on when this food delivery will be automated. Perhaps the best news is that the members of the George Mason community and other locals will be able to tap the vino seven days a week from 11 AM – 9 PM.
Whole Foods Market – Fairfax (Fair Lakes)
go to beer and wine department at the back and climb the staircase
4501 Market Commons Dr
Fairfax, VA 22033
Phone: 703.222.2058
tags: wine | whole foods | enomatic