So what will you be doing for your sweetheart this Valentine's Day? It's likely that it will include some wine, food and flowers. Here are a few suggestions for the wine — the rest is up to you.
Can you find a good pinot noir under $20? I put this to the test recently asking some wine shops for their faves. Some clerks recoiled in horror at the prospect of finding a worthwhile pinot noir–the grape praised by Miles in Sideways–for a mere $20. Part of the problem is that since Miles told everyone to have pinot noir producers have rushed to bring more to market even though there was little more to be had. Thus many "pinots" under $20 contain the legal minimum of 75 percent pinot noir and then jack the rest up with syrah or zinfandel trying to make a dark, lush wine not dissimilar to the very merlot that Miles disdained.
So thanks to your generous click-throughs on ads on this site, I deployed my tasting budget gathering 12 bottles of pinot noir under $20 and a few friends. The wines hailed from Burgundy, the grape's ancestral home, as well as California, Italy, Chile, and Oregon. All were tasted blind, which provided some unusual surprises.
On the whole I would say that the category produces some good rewards but is not without risk. Think of the degree of difficulty as equivalent to the quadruple back flip off a low board. But the reward is a very food friendly wine with great fruit and acidity and little of the tannin that wine newbies find offputting–yet sufficient depth and intrigue to fascinate wine geeks like me. In sum, an excellent date wine. And because of the light price tag, you can deploy the rest of your Valentine's Day budget elsewhere.
So here they are, in order of preference: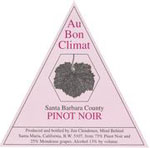 Au Bon Climat, Santa Barbara County, 2005. $18. Find this wine
The hands-down winner. A wonderful, almost Burgundian nose of earth and fruit. On the palate, the wine has cherry notes, cola, a certain pleasant earthiness, and a surprisingly nice level of acidity given its SoCal origin. The finish even has a bit of an arc like a serious pinot. Very food friendly and hugely date friendly.

O'Reillys, pinot noir, Oregon 2005. $19 Find this wine
The Irish are known for their wine. OK, maybe not. But they might be better known for it after giving the O'Reillys pinot a shot. This O'Reilly factor comes from the no-spin-zone of Oregon: a delicate balance of cherry notes and acidity make this a bottle whose contents disappear quickly.

Hofstatter, pinot nero, Alto Adige, 2005. $18. Find this wine
Mentioned previously on this blog, the Hofstatter fared well during this blind tasting. This pinot, light in color, has a sense of place in the bottle. But don't worry about the Dolomites where it came from: the place for you should be on your dining room table.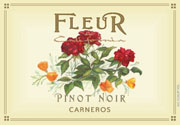 Fleur, pinot noir, Carneros, 2005. $15 Find this wine
This pinot is easy drinking. Soft, straight forward pinot noir, it paired great at our tasting with the Jasper Hill cheese called "constant bliss." With the bouquet of flowers on the label, the wine in your glass, and the cheese on your plate, you're as close as I can take you to Valentine's pleasure.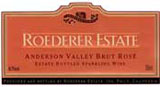 And finally…Roederer Estate, brut rose, for $20+ Find this wine
If you must have a great-tasting pink bubbly this V-Day, you're going to have to pay a couple of three dollars over our limit. But it is 60% pinot noir! This Roederer Estate is a great way to go. It pairs well with many foods–but not sure how it is in the jacuzzi.
If you have a favorite pinot noir under $20 feel free to post a comment below.
Related: "Biodynamics in Oregon"
Aging pinots
tags: wine recommendations | pinot noir