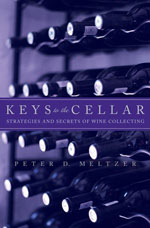 With incredible speed, Peter Meltzer, author of Keys to the Cellar: Strategies and Secrets of Wine Collecting replies to your questions. His answers follow in italics:
At 1:33 PM, January 29, 2007, Anonymous said…
Just this weekend I opened the first bottle of '90 Figeac purchased at an HDH auction last year. It was flawed. It tasted more cooked than corked. What, if any, are my chances of recourse from HDH, and should I try to return the rest of the lot? I have purchased from HDH both at auction and at retail and this is the first flawed bottle from them.
Rick
Chicago
At auction, in most instances you are buying "as is," and if the wine is off, you're stuck. However, it sounds as if you have a pre-existing relationship with HDH, so why not contact them and dispatch an "offending" bottle of the '90 Figeac for them to sample. Auction houses are not generally in the business of making enemies, so HDH might make an exception. In the future, however, don't wait a year before sampling your purchases. Try a bottle right away so that you can detect potential problems in a timely fashion.
At 2:15 PM, January 29, 2007, Anonymous said…
I'm just starting to think about collecting, and I don't have a fancy cellar or anything in place yet, just a cool (but probably not constant-temperature) basement. Should I invest in a wine refrigerator before proceeding?
It all depends on your game plan. While a temperature and humidity-controlled storage unit is always preferable, if you plan to focus on wines for immediate consumption, you can probably get by with your existing basement space. (However, if you have any intention of selling your wines at auction, a climate-controlled facility is preferable to a passive one.) If you plan to lay down fine bottlings that require extended aging, you should definitely invest in a wine refrigerator. It's always best to choose a unit with a capacity that exceeds your present stash so that you have room to expand. If you have a modest starter collection, however, you may want to consider a small unit like the Haier (whose 93-bottle unit costs about $1,000) for your better or best bottles.
At 2:16 PM, January 29, 2007, Kasie said…
How do I know when I wine has peaked? I have a '94 that recently went up in value, but does that mean it's time to drink it?
Price is really not an issue here, as many wines (including oldies like 1982 classified Bordeaux, and select California bottlings from 1985 and 1987) continue to escalate in value but are not yet past peak. Vintage charts and "drink" recommendations are always helpful in determining a wine's shelf life. Ultimately, you and your palate are the best judge. Periodically open a bottle that you think might be approaching maturity. If the color has turned to mahogany and you detect an earthy aroma and sweetish taste, it's time to drink up.
At 2:18 PM, January 29, 2007, Anonymous said…
Maybe I'm a cynic, but it seems that people can get really competitive at auctions, and rational pricing can sometimes go by the wayside. Is there any systematic way to get real values at auction?
Yes. Probably the best recourse is to place realistic absentee or "order" bids instead of attending the auction in person. That way, you don't risk getting swept up by auction fever. In addition, consult the Wine Spectator auction index (available online to website subscribers) which contains thousands of prices for frequently traded wines. It's a powerful tool to cross-reference estimates against recently realized prices.
At 4:21 PM, January 29, 2007, Bruce said…
What is the best single source for tracking the progress of specific vintages of specific wines (most importantly Bordeaux) so that I know when to pull them out of the cellar? (I know, I know, depends on storage conditions, etc., but let's assume they are "perfect")
See above.
At 2:28 PM, January 30, 2007, Mike said…
I'm curious if you have a rule of thumb as to when a pre-auction tasting is a good value? Or perhaps how to make the most of such a tasting?
A pre-auction tasting is a wonderful opportunity to sample wines from diverse regions and vintages, many of which may be unfamiliar. It gives you a heads up on wines you may contemplate acquiring, without having to go to the expense of buying a bottle before the sale. Most auction houses list the roster of wines to be presented at the tasting (either in the catalog or online) so if you see something interesting, don't hesitate to attend.
At 5:34 PM, January 30, 2007, Ben said…
Does the auction site matter? E.g., do you get better values at Chicago auctions vs. New York auctions?
It's difficult to generalize, as prices will vary from lot to lot and location to location. Overall, Zachys has a large number of high winning bids – but it also has quite a number of low ones. Prices at Bonhams & Butterfields (San Francisco) can be lower than the Manhattan competition, and Hart Davis Hart may offer great value. But when HDH auctions a 20 year vertical of Château Lafleur this weekend (estimate $300,000-$400,000), don't expect any bargains.
I have a case of 1989 Mouton in my basement (cool but passive storage conditions). How can I check the value? And what is the best way to sell it?
Thanks,
Kevin
Boston
According to the Wine Spectator second half 2006 auction index (printed bi-annually in the magazine and updated monthly for website subscribers) the average price for Mouton-Rothschild 1989 was $258 per bottle or $3,096 per case. Its high was $373 per bottle. At retail bottles range from $245-$489. If you have a friendly local wine merchant, see if he will make you an offer. Otherwise, contact one of the major commercial auction houses.
• Acker Merrall & Condit, (877) 225-3747
• Aulden Cellars-Sotheby's (New York) , (212) 606-7050
• Bonhams & Butterfields, (415) 861-7500, ext. 307
• Edward Roberts International, (847) 295-8696
• Hart Davis Hart, (312) 482-9996
• Morrell & Co., (212) 307-4200
• NYWinesChristie's (New York), (212) 463-8600
• Zachys (New York), (914) 448-3026
• Winebid.com
At 11:50 AM, January 31, 2007, Schliecker said…
I just bought a house and have a basement where the temp is between 60F and 65F with humitity between 30%-45% depending on the day. I have some wines I want to keep cellared for a while (not anything like an '82 Lafite mind you). What are your thoughts on those conditions. Good enough or would you go for a Vinotemp or something like it.
Thanks – Dave S. – Brooklyn, NY
These conditions are acceptable for short-term storage of good wines. However, have you any idea what the temperature rises to in the summer? The humidity level is on the low side.
(See second answer above for more details.)
tags: wine | wine collecting | peter meltzer