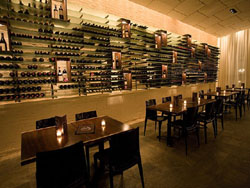 It's official! Back by popular demand, we are having the next offline meet-up on February 9 at Wined Up! Our slow-motion, NYC pub wine bar crawl makes a second stop this year after starting at Varietal last month.
The meet-up is simply a chance to meet in the real world, off the internet, with wine enthusiasts, in particular, readers of this site and people who've taken my wine classes at NYU. There's no charge other than what you order at the bar. Consider it a happy hour. Or two.
Wined Up opened in November above Punch in the Flatiron District. We will put their 30 wines by the glass to the test. Ditto for the cured meats and cheeses (I'll leave it to you if you want to try the pumpkin hush puppies). And perhaps even pull a bottle off their 100′ backlit display wall. Come one, come all and kick off your weekend between 6 and 8ish on Friday, Feb 9.
When: starting 6PM, Friday, February 9
Where: Wined Up
Second floor above the restaurant Punch (repeat: it's upstairs)
913 Broadway, nr. 20th St. Map it
Flatiron District
Who: you! And bring a friend if you like