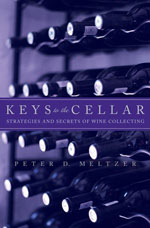 Peter Meltzer, author of Keys to the Cellar: Strategies and Secrets of Wine Collecting, joins us this week for a Q&A about wine collecting. In Keys to the Cellar, Meltzer draws on his twenty years as Wine Auction Correspondent for Wine Spectator to craft a thorough book about the ins and outs of collecting, storage and investing.
Meltzer will respond to your questions just as the auction market heats up for 2007. After a record year of $167 million worth of wine auctions last year in the US, the auction market kicks into gear with a big auction at Hart Davis Hart in Chicago this weekend. Next weekend, Sotheby's and Morrell have auctions in NYC. In fact, almost every auction house has one in the next month or so.
So post your questions on auction strategy, wine cellars, and general wine collecting here in the comments. I'll close the comments at 3PM Eastern on Wednesday. Peter Meltzer will then reply here on this blog later in the week.
UPDATE: here's the link to his replies