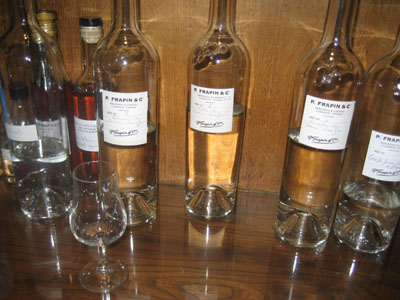 When a distilled spirit is 70 percent alcohol, can you taste the difference? In Cognac, the answer is yes. The cellar master receives the samples of the distillate and smells them for their aromatic qualities. I did it and it was, well, mostly alcohol. But then he adds water to the raw spirit, which, surprisingly to me, greatly amplifies the aromas. Suddenly there were many more aromas and it was possible to distinguish between two distillations from different vineyard sites. In the photo above, distillations from different areas are on the tasting table at Frapin.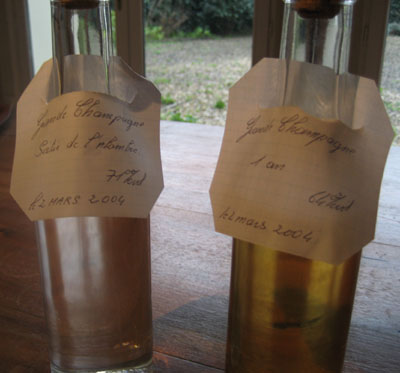 All the spirits are clear immediately after distillation–it's only the oak aging that adds the enticing golden hue. The photo above shows the distillate fresh out of the alembic and, on the right, after one year of aging in an oak barrel.

The longer in the barrel, the richer and darker the colors become. The Cognac house Camus has a beautiful demonstration of the progression on display. The just-distilled spirits are on the right moving all the way to fifty-year-old samples from oak casks the left.
tags: cognac | barrel aging