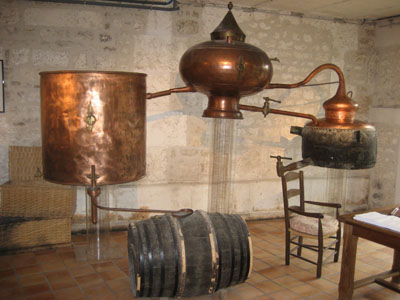 The word of the day from my Cognac trip is: alembic. It's the distinctive still that the wine must pass through–twice–to become the eau-de-vie that is cognac.
Known in French as the alambic charentais, it is made out of copper, which gives the distillate a distinctive flavor. The wine, a thin acidic wine almost entirely from the ugni blanc grape, goes into the boiler on the right in this miniature, antique example. The vapors, mostly alcohol, rise into the onion-shaped dome on top of the boiler. The lightest ones escape down the bent pipe called the "swan's neck" and into the cooling tower on the far left. (The thing in the middle simply captures any warm wine to return to the boiler as a measure of economy.) The cooling tank can have a copper coil 60 meters long running through cool water in order to bring the vapors back down to liquid form.
When the distillate comes out of the cooling tower it goes into a cask and then is passed through the still again for the double distillation that makes cognac different (armagnac, for example, gets one distillation usually while vodka can go through the still eight times). The liquid coming out at the end of the second distillation is clear and about 70 percent alcohol. It takes about 9 liters of wine to make one liter of the distilled spirit at the end.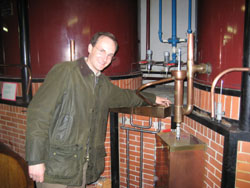 I visited a distillery, which runs 24 hours a day this time of year. All the distillation has to be completed by March 31. The stills can only be 2500 liters for the second distillation, or "la bonne chauffe," and it takes 12 hours for the process to be completed. Surprisingly, you really can taste a difference in the distillates, potent as they may be.
tags: cognac | alembic | distillation