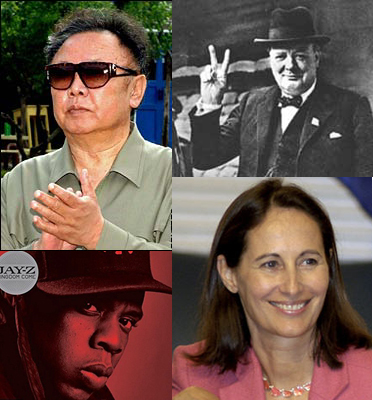 Winston Churchill. Kim Jong-Il. Jay-Z. Segolene Royal. What's probably the one thing they have in common? Cognac!
With fans as diverse as this, how could I not know more about this distinctive beverage? Samuel Johnson threw down a challenge to us wine geeks more than 200 years ago when he was offered a glass of claret. "No, Sir, claret is the liquor for boys; port, for men; but he who aspires to be a hero must drink brandy," according to Boswell.
Well, I don't know if I aspire to hero status, but I'm not going to settle for being a mere "boy!" So when the Bureau National Interprofessionnel de Cognac, the trade group representing ALL producers and distillers in the region invited me on a press trip, how could I refuse?They asked me what I know about cognac. I said nothing. They said, "Fine!"

So what do I know about cognac? Let me think out loud:
Like Champagne, Cognac is both a drink and a place. Fancy that. It's north of Bordeaux, touching the Bay of Biscay and runs inland.
Also like Champagne, Cognac favors brands over growers. That's evidenced by the fact that the cognac Hennessey is the best known wine and spirits brand according to Business Week magazine. And the second? Moet.
Cognac is made from grapes! The humble ugni blanc is grown with yields almost three times that of quality table wines. Then it is distilled. Twice.
Production is 95% exported.
Hip-hop artists want to "pass the Courvoisier." Cognac is also known as "yak."
One cognac comes in a Baccarat crystal bottle and costs over $1,000.
Actually I do know one more thing: there are various grades of cognac. Here's my initial impression, pending further research:
VS = blending
VSOP = blending or sipping
XO = sipping, big bling factor
For the late, great R. W. Apple Cognac, "properly made and aged, is the best brandy in the world." The decisive factor in setting cognac apart from other brandies is not the unique climate or soil. Appple ascribed its difference to the humans, saying "the decisive factor is the skills in distilling, blending and maturing that have been perfected over 300 years."
But with almost all the production exported, looking at who and where it is consumed is arguably just as important as where it is made. In his excellent story "Cognac and its Cognoscenti" in the Wall Street Journal last June, Eric Felten wrote about the rich history of brandy and American musicians, particularly African-American musicians such as Billie Holliday or Dexter Gordon all the way to P-Diddy. Felten observed this change:
With Lady Day and Dexter, cognac was a way to cultivate and project a worldly, savvy and civilized image. By contrast, the hip-hop brandy trend has been more about sheer expense — especially the stuff that sells for four figures and comes in Baccarat bottles. Even so, I suspect that cognac's appeal to the hip-hop crowd is about more than conspicuous consumption. The authors of the "thug" lifestyle seem to think a glass of cognac is like "a gat in the hand." Rap's celebration of yak is an embrace of the venerable notion that cognac is the drink not only of the rich, but of the powerful.
How open are the cognac producers to this embrace? After all, when the Economist asked a representative of Roederer about the house's top wine, Cristal, being a favorite of the hip-hop crowd he made comments that were interpreted as racist and led to a boycott of the bubbles.
It seems to me that the cognac producers are likely more relaxed about their "cognoscenti." Their beverage is, after all, a distillate, potent and concentrated. They're used to blending or just playing it straight.
So next week I'll be reporting on this and more from the region. I hope to be able to post from the region but that depends on two things. First, internet access, which can be spotty in France. And second, if I can keep my tasting volumes below the "heroic" levels of Churchill.
What I'm reading to get up to speed on Cognac:
Cognac, by Nicholas Faith (2005, Mithcell Beazley)
Cognac, the Seductive Saga of the World's Most Coveted Spirit, By Kyle Jarrard (2005, Wiley)
"From the Thinnest of Wines, the Richest Spirit: Cognac," R. W. Apple, NYT, September 25, 2002.
"Cognac and its cognoscenti," Eric Felten, WSJ June 3, 2006
Cognac-world.com
Cognac.fr, the BNIC site
PS bonus points for anyone who can say who Segolene Royal is. And double bonus for why she is relevant to cognac!