The People
"I didn't look for biodynamics–it looked for me," Josh Bergstrom said at a roundtable on biodynamics that I attended in Oregon last fall. His father was a chemist and he said that he is a skeptic by nature. But working in Burgundy, he came to learn that "there's no better way to express what I wanted to express than through biodynamic farming."
Doug Tunnell left CBS and his many international postings to return to his native Oregon. Since he started in 1990, his vineyard, Brick House, has been certified organic. He told the group assembled at his extremely tranquil and scenic vineyard that biodynamics "takes organic not just to the next step but many steps beyond," weaving in a "very spiritual dimension." He makes his own compost behind his barn.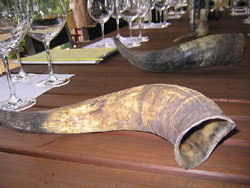 Moe Mamtazi came from Iran in 1971 and wanted the best flavor from his vines (see pictures of his Maysara winery from a previous post).
Kevin and Carla Chambers own Resonance Vineyard. Their vineyard used to be called Reed & Reynolds and they have sold all their fruit to wineries such as Sineann. They will be making their own wine from the 2006 vintage under the name Resonance Vineyard. Why the name change? Kevein writes, "Resonance is a better name to communicate their efforts to work in harmony with nature and the cosmos." Kevin practices what he calls "radionic" farming, which he describes as "an area of exploration into the world of subtle energies." The Chambers broadcast homeopathic preparations over their vineyard and supplement them with a biodynamic broadcaster prayer. Kevin also farms vegetables biodynamically and I tried some of his terrific tomatoes.
The wines
This flight of four wines was a profound flight of pinot noirs. The Bergstrom, Bergstrom Vineyard, Willamette Valley, 2004 (find this wine) is big and powerful with a notable presence of oak though not to the extreme as many American pinot noir practitioners have pushed it. Dark cherries and hint of chocolatiness, it has a long finish with peppery tannins.
The Brick House Dijonnais, Willamette Valley, 2004 (find this wine) has a real sense of place. Dark cherries, some tea-like notes, this wine is less plush style than the Bergstrom.
The Maysara Winery, Willamette Valley, "Delara" 2003 (find this wine): Another big pinot, with concentrated plummy fruit. Quite solid and fulfilling.
The Sineann, Resonance Vineyard, Willamette Valley, 2005 (find this wine): beautiful balance between the notes of cherries, the acidity and the tannins. A lovely, rewarding pinot–the kind that goes down too easily and you look back and the bottle is empty.
The reason
This write-up was inspired by Jack of forkandbottle.com for Wine Blogging Wednesday 29. Check his site for the other biodynamic wines that bloggers around the world have tasted.
Winery links
Bergstrom
Brick House Vineyards
Maysara
Resonance Vineyard
Related: "First person: Rick Trumbull"
tags: wine | biodynamic wine | oregon | willamette valley