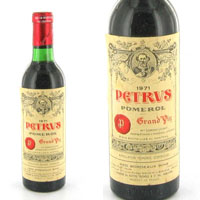 At dinner tonight an attorney from Boston mentioned that he inherited some fine wine from his brother. The bulk of the collection was sold at auction by Christie's, but he has a case of Petrus that was kept at home. It was kept in "ok" condition, but lacks perfect storage pedigree. Any thoughts on how to best unload a few (or all) of these bottles? – Anonymous reader
Auction houses may be fine with you buying only a case at an auction. But it is often hard to sell small amounts of wine through houses that run live auctions. Some have started brokering small amounts or odd lots directly, without bringing them to auction. I would suggest calling John Kapon at Acker, Merrall in New York or Paul Hart at Hart Davis Hart in Chicago and asking them what they suggest. I suspect the questionable storage conditions will make them hesitant but it's worth a call nonetheless.
Another option is trying to sell the bottles through WineCommune.com. They are an online person-to-person auction so the auctioneer in this instance cannot vouch for the quality of the wine being sold. Even with the questionable storage declared in the listing, I'm sure there would be some buyers who would be willing to take a chance since it is Petrus.
The advantages of this method are that you could even sell just one bottle at a time and the transaction costs are lower (two to five percent). The disadvantages are that the price may not be has high. One tip: your friend might want to sell a few, lower priced bottles first to garner a feedback rating on the site before selling the Petrus.
He could also call some good shops near him to see if they can recommend any local wine brokers. In many places shops aren't legally allowed to buy from individuals since they must buy only from wholesalers.
Does anyone else have further suggestions? Or experience in selling odd bottles?
tags: wine | selling wine