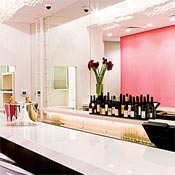 A couple of dozen of us had a great meet-up at Varietal last night! About 25 people attended during our two very happy hours, including fellow NYC wine bloggers Terry from Mondosapore and Keith, the East Village Wine Geek.
Varietal is a wine restaurant AND and excellent, bona fide wine bar. I'm upgrading it to "a favorite" on my NYC wine bar map. Here's why:
75 wines by the glass. These aren't any wines, mind you. They are really cool stuff. I'd be willing to taste them all–in fact I have enjoyed many of them already.
Great flights, seven flights in all, including even a Greek flight! All the glasses in the flight come with handy printed tags–excellent for keeping things straight.
The "master of wine" flight: three wines poured blind, guess the grape varieties and the flight is on the house. After being open for five weeks now, nobody has guessed them correctly (including yours truly). I have two words for you: garnacha tintorera!!!! oy.
An emphasis on freshness. Despite having so many wines available by the glass, the wines are well preserved. I had a glass of Nicolas Joly Clos Sacres and it was the last pour from a bottle opened a previous day. It was still very fresh.
Very cool bar. The countertop is a durable white surface–all the better for eyeballing your wine.
Knowledgeable staff! You would not know that it only opened about a month ago.
Spacious and comfortable bar area as well as a spacious seating area with Jetson-like chairs.
200 wines on the wine list for the restaurant, including some bottles starting in the high $20s…I didn't have the chance to dine there. Pending reviews from the Times and NY mag, check out Augie's review who gave it 832 bazillion stars.
In all the meet-up was as fun as the place. I really liked meeting those of you who made it and look forward to the next time. Stay tuned for details. Maybe we can turn this into a slow pub crawl of NYC wine bars!
Varietal [map it]
138 W. 25th St., New York, NY 10001
between Sixth and Seventh Ave.
212-633-1800