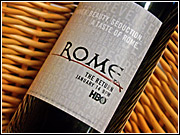 Want free wine? It can be yours for the next few days courtesy of…HBO. Roll the tape [source: AdAge]:
HBO will offer complimentary bottles of "Rome" cabernet sauvignon at more than 100 eateries in the three cities to promote the second-season launch of its sex-blood-and-togas series, debuting Jan. 14. But rather than have restaurant servers introduce the product by saying "And our house wine tonight is brought to you by HBO," consumers will be presented with a polite card at their tables: "A taste of 'Rome' awaits you. Ask server for details."
Mmm, cabernet, swords and sandals. Sounds authentic? Hardly. But at least the promoters recognize as much.
Though intended to give diners an authentic taste of the show's premise, the "Rome" wine was not shipped in from Italy; it was produced in California. HBO's senior VP-consumer marketing, Courteney Monroe, was unable to secure an Italian wine vendor, but she doesn't believe the promotion fails logistically. The detail is as subtle as the promotion was intended to be.
Somehow, I bet the special effects are better than the wine…(hat tip: UTB)