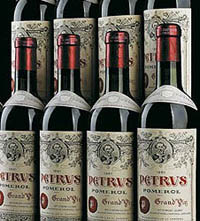 "I drank a bottle of 1961 Chateau Petrus on my 36th birthday recently, and it was better than sex," Wais Jalali of WDJ Capital Holdings was quoted in Bloomberg as saying. Jalali has a 30,000 bottle collection.
Elin McCoy's thorough story reports on the rampant $167 million wine auction market in the US. It makes for fascinating reading for shock and awe: shock for all the great wines in single collections and awe at the prices paid for them.
The story points out that "blue chip" wines–Mouton, Petrus, Yquem, for example–fare the best as investment vehicles.
"It's been a real insane year; a new level of pricing is being established," Acker Merrall auction director John Kapon, 34, said in November. (Acker Merrall was the year's world auction leader at $60.3 million.) "The question is how fast and how much prices will rise. The top 20 wines seem to be bulletproof."
That's sad news for wine drinkers since many of the top wines have been priced out of the realm of drinkability for most wine enthusiasts. Good for Wais Jalali who pulls some corks and enjoys the wines. But it's going to take him a long time to get through those 30,000 bottles…
See the excellent story for a lot of practical information about the current auction market. [Bloomberg]
Upcoming auctions:
Chicago: Hart Davis Hart, Feb. 3.
New York: Acker Merrall & Condit, Jan. 27, Feb. 24, March 24.
Christie's, March 24 (also in Los Angeles).
Morrell & Co., Feb. 10.
Sotheby's, Feb. 10.
Zachys, Jan. 19-20, March 2-3.
San Francisco: Bonhams & Butterfields, Jan. 27, March 31 (also in Los Angeles).
via Bloomberg
Related: A century and a half of Yquem sold for $1.5 million in London. Includes nine empty bottles for vintages when the wine was not produced. [Decanter]
tags: wine | wine auctions