Over the holidays, Mrs. Vino and I dipped into the Vino cave to pull out some older bottles of Turley Zinfandel. With great anticipation, I uncorked the 1997 Duarte Vineyard (it had a damaged label–had to put it out of its misery; find this wine).
In the glass, the wine was an odd brick red in color rather than the vibrant purply inky hue of young zin. The aroma was old and tired. Prunes, raisins and a whiff of nasty. I tasted some. Big mistake. It put me in misery with port-like tastes. But that's actually an insult to port to have any association with the wine that was so obviously past its prime.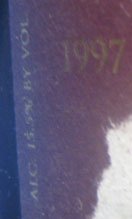 So I spit and drank some water and returned to the cave. Hmm, double down on Turley? Why not. I rummaged around to find something younger. I extracted a 2000 Old Vines (find this wine).
Returning to the kitchen, I uncorked it. Surprisingly thin in color, again. I was disappointed to get some of the old, dried fruit stew aromas again. But there was a whiff of cracked black pepper too. I had hope and sipped. It had some structure–prunes, a crack of pepper, then it teetered on the edge and took a swan dive into nasty land. Pl-ugh! I made Mrs. Vino take a sip for good measure. She hated me the rest of the evening. ;-(
We were in the mood for a big wine and ultimately turned to the Gran Araucano 2002 from Chile, which was very good and quickly emptied (it took a glass just to get the Turley taste out of my mouth; find this wine).
I should add that I purchased both of the Turleys from the producer when I was on their mailing list. The previous week we had opened a 1998 syrah, also purchased from the producer and stored right next to the Turleys. It tasted wonderful and seemed to still have quite a few years ahead of it.
Robert Parker frequently states that zinfandel produces a wine best enjoyed in its youth. But should he be more direct and advise drinkers NOT to age zinfandel? Should a wine of Turley's quality (and price) not be age-worthy?
Since zinfandel is perhaps the most emblematic of the current wave of "hedonistic fruit bomb" wines–inky, extracted, approachable soon after release and high alcohol–it is reasonable to call into question the age-worthiness of the whole style. Even though the trend is not really that old, do you have experiences that would make you question whether these types of wines can be aged? Any old monster shiraz out there?
tags: wine | Turley | aging wine