For those of you new to the site–and those of you just dying to look in the rear view mirror–I compiled this roundup of some notable posts on the blog in 2006. Things that you frittered away your time reading when you probably should have been working on a spreadsheat–or better yet, drinking wine!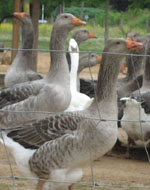 Goose Gitmo, I suppressed my gag reflex and visited a foie gras goose farm in France.
Cantu feel the love tonight, I crossed swords (laser beams?) with Chef Homaro Cantu of Moto restaurant
Meeting Michel Rolland: The controversial winemaker's jet touched down in NYC; I listened and tasted.
Quality guaranteed? Does recorking older wines guarantee quality or commit adulteration?
Malbec, a backup or a star? I found a midpalate and more in Mendoza.
Mourvedre, the next big red? It's big. It's wild. But is this grape ready for the big time? I tasted ten wines to find out.
The best affordable wines you'll never have this fall
Grower champagnes: a lunch with importer Terry Theise
Dear Jorge Ordonez, please bring us a good box wine.

Grapes on the half-shell: Steve Smith, a New Zealand wine maker, basks his grapes in reflected glory.
No monkeying around: A biodynamic wine maker in South Africa who makes an excellent syrah–and keeps the baboons at bay.
I got the poop on how to make compost.
I ventured off the beaten path to join the Wine Century

Give the gift of big red…and a roundup of memorable wines of 2006.
Bordeaux, Bordeaux, Bordeaux! You're probably sick of hearing about it. Posts ranged from new language on labels, to price insanity, an export turnaround, the bottom of the barrel, urban sprawl, and finding good values among the rising prices.
A bipartisan meal? Yes, I got a jump on what must now be more common in DC.
I brought wine on a plane and made a screenplay about it. That's not true–that was the snakes. But it was a happy ending in my story since the wine didn't break.
Last year the Supreme Court made it easier to buy wine directly from wineries. So why is it so hard to buy from some out of state stores I wondered?
Jay-Z flashed a new champagne. But is he behind it?
Should wine be sold in Massachusetts' grocery stores? I argued yes. The voters said no.
Wine shop madness! Find favorite shops from other bloggers in the WBW roundup. I even visited a few wine shops in Paris. And I kept an eye on the NYC retail scene visiting Bottlerocket, Moore Brothers , and the new Astor.
In fact, I visited more than that and plotted an interactive map of NYC wine shops. Four more maps followed, all listed on the sidebar.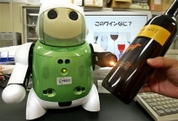 Who's on notice?
Wine tasting robots
Cider
United Airlines
Chef Homaro Cantu
David Sinclair bites the grape that feeds him: resveratrol researcher admits "I don't care about red wine."
And some excellent guest posts:
Taste the terroir of the Marlboro Man, visiting Utah's wineries
Gallo invents valleys, defines statewide terroir
A wine after its time, how to make vinegar and more with leftover wine.
You certainly had your say with comments, but here they were directed at the TSA.
But enough looking back! Onward to discover new wines and good times in 2007!