In a story in today's NY Sun, I was quoted as saying that a memorable wine for me was the Hofstatter pinot nero 2005. True enough. But you already knew that. Newspapers have space limitations that don't apply here on the web. So let me mention a few more!
If I had to choose one wine to sum up 2006 it would be the Clos de los Siete 2004 (find this wine). Yes, I've mentioned it before and I don't want you to think that it was the only wine I drank last year (I actually tasted over 2,000!), but it encapsulated the year in a bottle for a variety of reasons.
I visited Argentina in April of this year and I went to the dramatic Clos de los Siete winery. The vast project of over 2,000 acres was mere scrub brush in the late 1990s. Michel Rolland led a team of six other investors from Bordeaux. The wines under the Clos de los Siete name are the collaborative wine but the goal is that each investor will produce wines individually as well (I like the Cuvelier des Andes, 2004, about $30, find it). On a further personal note, I had the opportunity to meet Michel Rolland and taste through some of his wines with him.
Beyond these personal experiences the wine encapsulates 2006 in other ways. In a sign that wine and Argentine wine in particular is starting to reach the masses, TIME magazine declared Argentine malbec as "hot" in their year-end issue. Beyond being mostly malbec, the Clos de los Siete is a further sign of the times. It's about $15, which is the new $10. And it is a big, bold, extracted, high-alcohol, wine and doesn't seem particularly age-worthy.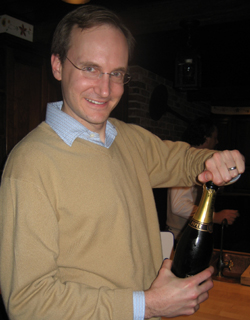 I've enjoyed many other wines this year. I sprung for Savennieres early in the year and explored the other wines of the Loire later in the year. I tossed back some torrontes. I tasted some amazingly vibrant older whites from Austria. Some pinot noirs from around the world moved me and I was particularly thrilled with the quality of Oregon pinot. I learned a lot about biodynamics and tried an excellent wine that had been protected from marauding baboons by lion dung. And found some good value Bordeaux. I wondered whether mourvedre and malbec, traditionally backup singers, had star power. And my year-end bubbled with some farmer fizz from boutique growers.
I look forward to sharing many more fun wines with you in 2007, either together offline at one of my classes or meet-ups or through the virtual vicariousness of the web. Cheers!
tags: wine | 2006 | clos de los siete