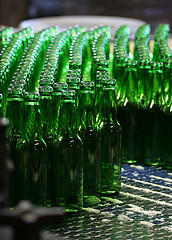 This is not a beer blog. But we can commiserate with our hops and barley brethren and sist'ren on occasion. (I even posted about French microbrews this summer.) Looking at a recent story about beer is especially important since it sheds light the political construction of alcohol markets in the US.
The Chicago Reader has a cover story about how the owner of Bell's, a popular beer from Michigan, has withdrawn from the large Chicago market because of distributors. Roll the tape:
Until October Bell's was distributed in Chicago by Union, which is owned by National Wine and Spirits. (NWS is currently enmeshed in court proceedings; NWS vice president Greg Molloch says a gag order prevents him from commenting for this article.) Bell was happy at NWS. But according to state law, NWS was entitled to sell Bell's distribution rights to another wholesaler without his approval, and a few months ago it decided to do just that, in a deal with Chicago Beverage Systems— the Miller distributor in Chicago. CBS is part of Reyes Holdings, the biggest beer distributor in America and, according to Crain's Chicago Business, the biggest privately held company in town.

…People in the industry are skeptical about whether CBS can properly distribute these smaller brands. "What they do, before they started dabbling [in regional beers], they did very well," says Laura Blasingame at the Map Room. She buys Heineken and Amstel from CBS. "Those brands are hard to mess up. CBS takes care of beers that don't need as much love. I understand why Larry Bell would be nervous. I don't know if they really know how to handle craft beer." CBS officials didn't answer questions on its approach to distributing craft beer.

State law says that a distributor can drop (or better yet, sell the rights to) a brewery at any time. But outside of identifying "just cause" like gross professional misconduct— such as selling beer past its sell-by date—there's no easy way for a brewery to dump its distributor.
Check out the whole story. It has sad parallels to the wine biz…
Thanks, Mark!
tags: wine | beer | the business of wine