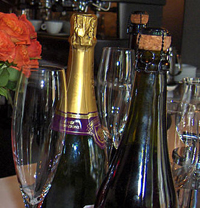 Champagne's sweetness makes me sick. Should I look for "extra dry" on the label to find one that's not sweet?
-Jennifer via hotmail
Actually, no. "Extra dry" is not all that dry when it comes to champagne. Brut is the magic word. But even "brut" can go as high as 15 grams per liter of residual sugar. With 5 grams about the threshold for human perception, some brut champagnes may still taste sweet.
You might even want extra brut or a champagne with no dosage, the little shot of wine and sugar that gets added right before bottling.
Amazingly, the sweet "demi-sec" category is starting to make a comeback. Get this one for your sweet tooth, not necessarily your sweetheart.
Residual sugar, grams per liter
< 3g: brut nature < 6g: extra brut < 15g: brut 12-20g: extra dry 17-30g: sec/dry 33-50g: demi-sec/medium dry > 50g: doux/sweet
Source: Oxford Companion to Wine