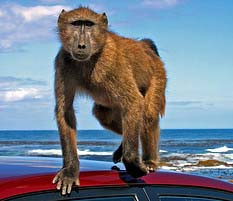 When I visited Argentina I was surprised to learn that some ten percent of the harvest each year is lost to hail. I'm sure every vineyard has a pest or a problem that attacks the juicy grapes. I've heard of birds and deer attacking vineyards here in New York. But on Wednesday I met with a wine maker from South Africa who loses 12 percent of his crop each year to something unusual: baboons.
The 40 acres of vines on Tulbagh Mountain Vineyards abut a national park. Marauding baboons wander into the vineyard just as the grapes are approaching harvest, when the sugars are high. The vineyard owners used to lose a quarter of their crop to primates. They implemented several controls that have reduced the toll, but not eliminated it. They put up a fence but the baboons dug under it. They used patrols, but the baboons waited until the patrol was around the other side of the vineyard.
Since Chris Mullineux, the vineyard manager and wine maker, adopted biodynamics last year, he searched for a harmonious way to eliminate the pests. One British wine writer told him that the biodynamic solution to pest management was to capture a pest, burn it and sprinkle the ashes around the vineyard to deter future incursions. That was a little much for Chris to stomach in this case. A mealybug, maybe. But a baboon?
In the end, he got lion dung from a lion park in Stellenbosch and sprinkled it around the periphery of the vineyard. That proved the most effective solution. It scared the poop out of the baboons. Or, rather, it was the poop that scared them. The grape loss has been cut in half.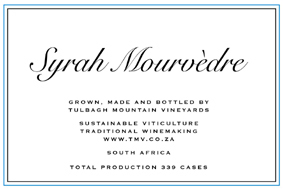 2004 Tulbagh Mountain Vineyards, Syrah Mourvedre find this wine
Winemaker Chris Mullineux doesn't like pinotage (the taste). Nor does he like wine competitions (they favor big, extracted wines). All the grapes are hand-harvested. And the vineyard has been organically farmed since it was planted in 1999, but they're in the first year of a transition to biodynamics, a sort of organic plus plus. Further, I know no animals were harmed in the making of this wine (see above).
This 85-15 syrah/mourvedre is a hugely serious wine. The syrah gives it tannins and spice and backbone; the mourvedre rounds it out and gives it a wild side. Minerality blends with dark berries and notes of leather to make a wine that disappears quickly from the bottle.
The bad news: 1165 cases produced. Since Chris gave me this bottle, I'm sad to report that a quick search doesn't show any more in the US market. More details as they become available.
Tulbagh Mountain Vineyards
THIS JUST IN: the 03s are in the US–but only 339 cases were produced. The 2004s are coming. The importer is Indigo Wine Group, in Venice, FL. (941) 483 1816
tags: wine | south africa | baboons