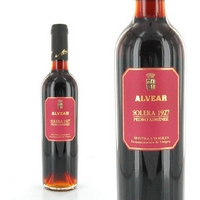 In my critics class at NYU last week I poured a contentious wine. Sadly, it wasn't the famed Pavie 2003 (we are on an academic budget after all). The contentious wine this time was the Alvear Pedro Ximenez 1927, a fortified wine from Andalucia that actually started the year my grandfather graduated from college. (find this wine)
Sqaring off in one corner was the Robert Parker. And in the other was HRH Jancis Robinson. I won't insult your intelligence and tell you who said what. Jancis made me laugh though. Roll the tape:
"The impressive 1927 Pedro Ximenez Solera, from a Solera begun nearly 80 years ago, boasts a dark amber color as well as an extraordinary nose of creme brulee, liquefied nuts, marmalade, and maple syrup. Huge and viscous, yet neither cloyingly sweet nor heavy, it is a profound effort priced unbelievably low. It is meant to be drunk alone at the end of a meal. 96 points."
"There is also a super-stickie Alvear Pedro Ximénez Solera 1927 Montilla-Moriles for £12 a half-litre that should sweeten any 80th birthday celebrations next year – very, very dark, like ancient raisins steeped for years. If the octogenarian still has their own teeth, this should put paid to them."
For what it's worth, the class gave the wine a thumbs up.
tags: wine | wine writing