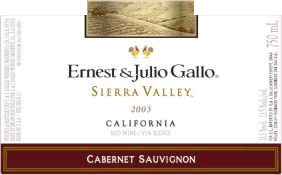 On an October trip to Germany, I visited a number of supermarkets, and inevitably I found myself browsing the wine department. Out of chauvinist curiosity — or perhaps Schadenfreude — I always made sure to look for the wine offerings from the United States.
In nearly every supermarket I visited, including some smaller shops outside of city centers, there were two predominant Californian wine brands available. Gallo and, secondarily, Fetzer. (Interestingly, Chilean and South African brands are more prominent and varied on store shelves.)
But one wine in particular caught my eye. I noticed a Gallo wine that was called "Gallo Sierra Valley Merlot." I thought, "Sierra Valley? Where the heck is that?!"
Visitors to California looking for Sierra Valley will be disappointed. I looked closer at the bottle, to find a tiny "(tm)" after the name. Indeed, there is no Sierra Valley — it's an "appellation" invented by Gallo's marketing department for sending bulk-produced wines to Europe with fancier labels.
The company's website for the Sierra Valley brand offers this description:
Let us introduce you to California. The grapes for our Ernest & Julio Gallo Sierra Valley are sourced from our sun-drenched vineyards throughout California. By balancing Old World heritage with New World innovation, we harness the potential of the California terroir and bring it to you in the bottle.
"Vineyards throughout California" allow them to "harness the potential of the California terroir"??! One terroir for an entire state? Obtained by blending wines from the Central Valley? Who wrote this?
Sadly, it turns out that "Sierra Valley" and its broad notion of terroir are not limited to Germany, or even Europe. The brand is sold to Canada and Japan as well. For many people, sadly, this bulk wine with the phony-baloney appellation is the only exposure to Californian wine they can readily receive.
— Mark Ashley, Upgrade: Travel Better
tags: wine | Gallo Sierra Valley | Germany