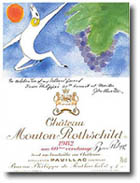 A few weeks ago I was at a dinner, seated across from a significant wine collector. Among other things, he proclaimed that in 1982 Mouton "muffed it."
Well, the anonymous European buyer who just paid $1.05 million for 50 cases of 82 Mouton would no doubt disagree. I bet he would side with Robert Parker who called the wine "perfect" and scored it 100 points. Or he might not give a rip what it tastes like and could just think that in a decade, somebody will pay him $2.5 million for it.
According to a Bloomberg story, the cases were sold as one lot from Park B. Smith's collection. Smith, a textile and fabric magnate who also co-owns the restaurant Veritas, saw rapid growth of the asset. He purchased the 50 cases of magnums and rare double magnums only in 1997 for $420,500. They have been sitting in the cellar of his weekend home ever since.
But he didn't keep the profit. The $5 million proceeds from the auction of his wines (minus the auctioneer's fees) went to his alma mater, Holy Cross. I'm sure they'll drink to that.
tags: wine | wine auctions | mouton 1982