Lucarelli, Primitivo 2004 from Puglia. $6.97 find this wine
In the heel of the boot that is the Italian peninsula, the hot plains of Puglia have typically produced prodigious quantities of wine. Quality is creeping in now as the effects of the world wide glut are being felt. This Lucarelli Primitivo is an intersection of the two themes: good quality at a low price. These 60 year old vines yield primitivo, a grape that is a relative of zinfandel. The resulting wine is a real crowd pleaser with round fruit followed by persistent, faintly spicy finish. It's light enough to try with pasta, but would love some grilled meat. What are you waiting for? Start searching for this value vino!
Texier, Cotes du Rhone, 2004. $10 find this wine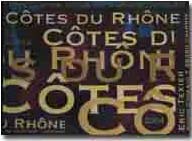 I pulled out this wine as a "third bottle" one evening because I expected it to be big. But it was lean. And very food friendly. I poked around the web and found this comment from the importer: "Eric Texier and his wife, Laurence, studied nuclear science in France and in Illinois." oops, that wasn't the important part. Take 2: "He vinifies all of his Rhones as if they were Burgundies. His touch is therefore light, and involving cold maceration of all reds…and the gentlest, non-filtered, gravity powered bottling possible." Aha! Well, it certainly is an unusual CDR, but good nonetheless–and Texier is tres sexier at $9.99! Importer: Louis/Dressner.
Evesham Wood, Blanc du Puits Sec, Eola Hills, 2005. $13 find this wine
While I was in Oregon recently, I tried this excellent organic pinot gris. Russ Raney adds depth to the wine by blending in 15 percent gewürztraminer, which makes it a terrific aperitif wine. It has the floral notes of pinot gris with a hint of the lusciousness of gewurtz all with minerality and refreshing acidity—I'd like to taste it blind against some Alsatian whites, or forget that, with some seafood! The only bad news is the limited availability of the wine. But based on this taste, I'd be very willing to cobble together an order of his very reasonably priced wines from Russ at the winery directly. eveshamwood.com (503) 371-8478
Chateau Turcaud, Entre-Deux-Mers, white 2005. $11 find this wine
The Entre-Deux-Mers region of Bordeaux is a misnomer. It's not between two seas, as the name states, but between two rivers. This wedge of flat land between the Garonne and the Dordogne Rivers used to produce a lot of boring wines but the economic crisis in the area is starting to invigorate the area as a whole. This dry white, a blend of sauvignon blanc (50%), semillon (45), and muscadelle (5) is great value vino from Bordeaux. Luscious notes of pineapple layer on top of crisp acidity giving the wine a great mouthfeel. It's an excellent companion to potato-leek soup. Mmm, fall is here. Consider this a wine for between two seasons, not seas.
Importer: Fleet Street Wine Merchants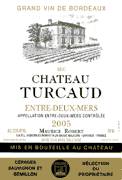 Zero manipulation, Peterson winery, California, 2003. $12 find this wine
I love the text on this label: 78% Mendocino County carignane, 14% Sonoma syrah, 8% Sonoma mourvedre. They even stick the vineyards on there too but I won't bore you those. The point is, information! Love it! In the glass, it is a red, light color but not lacking in aromas of garrigue, leather and spice. It has good balance on the palate and is a very food friendly red for the fall. And zero manipulation, who can be against that?
Powers,
cabernet sauvignon, Washington State, 2002. $11 find this wine
If some entry level cabernets have too much raw tannin, then, ironically, this wine called Powers is a way to throttle back. A blend of cab from four vineyards in Washington State, the wine maker also added a gob of syrah and a blob of merlot from organically farmed vineyards. With a little age on it now, the resulting blend is smooth yet substantial and a good match for the beefy side of this fall's dishes.

Vinho Verde, Fâmega, NV $4.49 find this wine
I have always thought of vinho verde as something of a wine curiosity since it's neither green as the name would imply nor a still wine because of slight effervescence. Heck, it's hardly even a wine by today's standards since it has only 9 percent alcohol! But after years of scoffing at vinho verde I tried this one—not of my own free will, of course, but it mysteriously ended up in a case of wine that I ordered on line. I'm glad it did. It is a fantastically easy drinking aperitif wine with a sort of bluish hue, bubbles, and good acidity. With the low price and low alcohol, you could really put some of this away. And at under $50 a case—too bad summer is almost over! Importer: Admiral Wine Imports, Cedar Grove NJ.
Lafazinis, St. George, Pelopennese, 2004. $10 Find this wine
Greek wines have come a long way. This light summer quaffer hails from the blazing sun of the Pelopennese. Made from the Agiorgitiko grape (chalk up another one for the wine century) with no oak, the light bright red fruit shines through followed by a slightly tannic finish. Try chilled with anything you're eating al fresco. Importer: Sotiris Bafitis.

Los Planos, Syrah, D.O. Carinena, 2003 $8 Find this wine
These planes of Spain may become known mostly for their syrah. This 6,000 case offering from the team behind the old-vine grenache of Las Rocas, has a similar unctuous, big style. Leather and dried herbs on the nose and blackberries on the palate, this syrah is going to be a huge crowd pleaser-and at this price, you can afford to pour it for a crowd. To make it fit better with the summer weather, try and chill it a few minutes before pulling the meat off the grill. Importer: Eric Solomon.

This list is updated weekly.
See the previous complete list of ten wines under $10.
Wines over $12 that are still good values:
Il Corzanello, $14. A delicious white wine from Tuscany. Read more.
Gerard Boulay, Sancerre, Chavignol, 2005. $21 find this wine