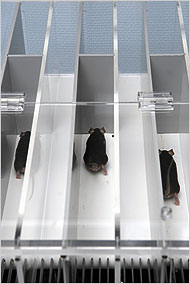 Two weeks ago a team of American researchers promised what the New York Times story called "guilt-free gluttony" through resveratrol, a component found in red wine.
Now, in a scientific detente, French researchers are doing them one better: cardiovascular-improving sloth. To wit:
"Resveratrol makes you look like a trained athlete without the training," said Dr. Johan Auwerx of the Institute of Genetics and Molecular and Cellular Biology in Illkirch, France who led the study. [Read full story]
This is going to be serious competition for the ab toning belt.
We all know that red wine can cause pinot envy. So only four deadly sins to go! What will resveratrol create next? Humble pride? Gentle anger? Generous greed? Platonic lust?!?
Related:
"Lose weight on a red wine diet"–with video of lab mice! [Daily Telegraph]