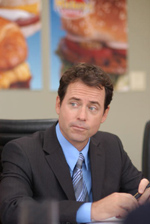 I have assigned the book Fast Food Nation to political science undergrads. Eric Schlosser's non-fiction account about "the dark side of the all-American meal" really makes political economy theories about labor and markets seem much more relevant and grounded. Heck, even if you're not a polisci student it is still a great read, weaving together compelling stories that may change your eating habits forever.
So it was with great relish (but not ketchup) that I attended an advance screening of the new movie "Fast Food Nation" yesterday with director Richard Linklater and Eric Schlosser in attendance. The movie is a fictional account–written by Linklater and Schlosser–that weaves in much of the material from the original book. Even though the material is dark, it's got a lot of great acting and terrific characters, most of whom journey from innocence to cynicism–or just started off cynics anyway.
Since it has little relevance to wine despite being very worthwhile I'll leave the reviews to the pros. Check here for AO Scott's review in the NY Times. Or get a roundup of reviews over on metacritic.
But I did record the Q&A with Linklater and Schlosser so I will put that up here. You can learn about how they got access to slaughterhouses, their thoughts on potential lawsuits, and just how much Bruce Willis got paid for his excellent cameo.
Audio here (35 minutes)
Check out the movie, which opens in 321 theaters today.
Fast Food Nation, official site
NY Coalition of Healthy School Lunches, screening organizer
tags: wine | Fast Food Nation | eric schlosser | richard linklater