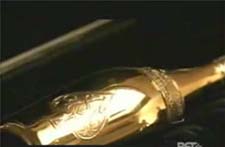 "To launch a champagne in the U.S. you either need three or four centuries of history, or have a big rapper behind you," said Emeric Sauty de Chalon, the head of one of France's leading online wine retailers, 1855.com in today's Wall Street Journal.
Buried on page B2F of today's Journal was a fascinating story about how Jay-Z, hip-hop mogul, selected Armand de Brignac, aka "Ace of Spades," as his new champagne of choice (find this wine). Early last summer Jay-Z called for a boycott of Cristal after "racist" comments from Frederic Rouzaud, the boss at Louis Roederer, which makes Cristal.
In the WSJ story, Jean-Jacques Cattier, the brand owner tells how he was unable to sell his champagne in the American market for 20 years. Brett Berish of Sovereign Brands, a drinks importer and marketer based in New York, approached Cattier about reviving his old brand name "de Brignac." The association of champagne growers, the CIVC, approved of reviving the name providing they added a first name. So they chose Armand since "it sounded kind of noble," according to Cattier in the story.
Two points of "controversy" surround the launch. The first is whether Jay-Z has a stake in the brand, which he denies. This is not controversial in my view. Given the amount of promotion Jay-Z will no doubt do for the brand and the increasing amount of celebrity wines, this does not strike me as the least bit controversial. But it is funny how much Berish is denying it even going so far as to tell BusinessWeek "But it's not like we just cooked this brand up to capitalize on that [the Cristal boycott]."
The second point is controversial in the same way that the Emperor's clothes are controversial. Apparently the $300 Armand de Brignac tastes remarkably similar to a $60 bottle of Cattier's wine only available in Europe. If you buy marketing, you should be expected to pay a premium.
Related:
"French Bubbly Garners Hip-Hop Cred" [$WSJ]
"Is the champagne in the Jay-z video for real? It's complicated." [BusinessWeek]
tags: wine | Jay-Z | champagne