Catch Jancis Robinson on her last NYC stop tonight at Astor Wine for a free tasting and signing of the new Oxford Companion to Wine. 6-8 PM.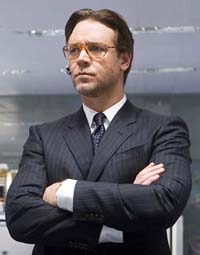 In the most punchy writing ever seen on Decanter, a review calls "A Good Year" starring Russell Crowe "an absolute dog." Russell Crowe's character, an investment banker turned vintner in Provence, intones such lines as "I want a bottle that tastes like you and a glass that is never empty…" The screenwriter, Marc Klein, said that he "knew nothing about wine or Provence." [Decanter]
Jay-Z, who announced a boycott of Cristal early in the summer, has declared his new house champagne: Ace of Spades, from boutique producer Armand de Brignac. No word on the price of the wine. But you can watch him wave off a bottle of "cris" in his new video and take a bottle of Ace! [Decanter, YouTube]
Acker-Merrall, the NY auctioneer and high-end retailer, set a record with a $24 million auction last weekend. A methuselah (6L) of 1978 Romanée-Conti went for $125,475–$608 an ounce!
Want 10 million liters of French wine? Bid before November 10, probably pennies per ounce. [Scotsman]
"I love writing about wine. It's like being paid to date models." –Jay McInerney [Observer]
"A Good Year," [Dr. V]
tags: wine | wine auctions | Jay Z | A Good Year