I always love the rare opportunity of tasting older wines. One thing that makes me reluctant to buy them is that they can be so hit or miss. Quality today depends not only on whether the wine itself was built to last but also the storage conditions of the bottle. Indeed, excellent storage is part of why bidders recently paid 75 percent over the auction estimates for the wine collection of Paris City Hall.
Last week at a trade tasting I had a chance to taste some 20+ year old white wines from Austria. I tasted the 1986 Roter Veltliner Scheiben and the 1983 Weissburgunder Auslese both from the producer Leth in Wagram. The Roter Veltliner is a local variation of the Gruner Veltliner and is generally subdued in its youth relying on good acidity and minerality to carry it through to a more mature age. The example I had tasted incredibly fresh with delicate notes of white flowers, slight sweetness, richness, and crushed stones on the palate. The long finish made it stunning. (find this wine, about $80)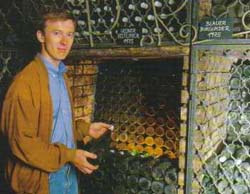 Weissburgunder is the local name for pinot blanc (and if you want to really one-up your Sideways buddies, Blauburgunder is pinot noir). The 1983 vintage (find this wine) was hot and dry like 2000 according to Franz Leth (pictured, right) who poured me the wines. The wine had a rich, honeyed nose that was complemented by a youthful acidity making the wine taste very vibrant. Maybe this should be the unofficial wine of Hollywood since all movie stars would like to be described as seeming much younger than they are.
I asked Franz how he would explain this? He had two reasons.
Franz personally uncorks all of the older vintages as they are withdrawn from the winery's cellar. If they are bad, he discards them. If they are good, he tops them up with the current vintage, adds a shot of SO2 and recorks them.
On the one hand, this is amazing for the consumer since it brings the risk of buying an older vintage of Leth to near zero. This is as close as you get in the wine biz to a guarantee. Buyers would no doubt be willing to pay a premium for it. And Leth probably demands it since they must pour lots of wine down the drain that other wineries might be happy to sell to consumers who didn't know any better.
But on the other hand, how true is it to the vintage with the shots of SO2 and the current vintage? Is this adulteration? Or just delivering the best that Leth can give? Adding a less expensive current vintage could devalue the older bottling.
After tasting the vitality and freshness of the wines, as a consumer I would prefer the almost-sure-thing that Leth provides, especially if I were planning to drink it in the near future. But would I pay the premium?
tags: wine | old wine | Austrian wine