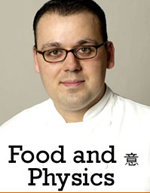 Homaro Cantu, the Chicago chef who writes his menu on edible paper and bakes his bread inside out with a laser, is now turning his lasers on something else: wine. Roll the tape from the current Wired magazine:
Carmelized Wine
Mixologist: Homaro Cantu
1 vanilla bean
6 oz. red wine

Clamp vanilla bean below inverted wine glass. Heat bean with a class-IV laser until mist coats the inside of the glass. Remove bean, flip glass, fill with wine, and serve.
I dispute this. It's really much better with a class-II laser.
Actually, this 30-year-old chef at Moto restaurant and practitioner of "molecular gastronomy" has pushed his wine too far (but at least he's not using hazelnuts). If he needs to enhance his wine, maybe he should simply try other, better wine? And make it one aged in American oak, which imparts his desired vanilla notes. Would Homaro add vanilla aromas to enhance any "red wine" from Beaujolais to Barolo?
Keep your laser away from my wine glass! We're putting you on notice, Homaro!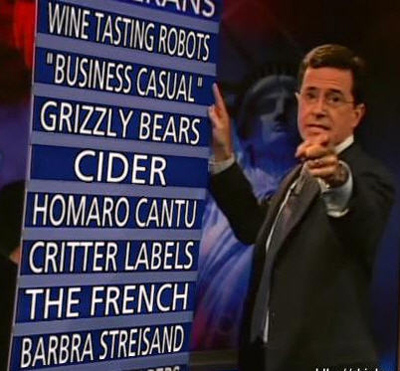 Related:
"Who's threatening us now: robots!" [Dr. V]
"Who's threatening us now: cider!" [Dr. V]

UPDATE: Read about my encounter with Chef Homaro Cantu and his laser beams