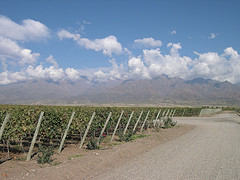 [For part I of this story click here.]
The wines included three vintages from Clos de los Siete in Argentina and four Dourthe properties from Bordeaux.
As with many Argentine wines, the Clos de los Siete packs a lot of punch for a $15 red. Mostly malbec, Rolland blends in healthy doses of cabernet sauvignon and merlot as well as a dollop of syrah, something he couldn't do in Bordeaux. These are big wines, not for the faint of heart.
The first commercial vintage of 2003 I found to be an abrupt combination of dark fruits and alcohol. (find this wine) The 2004 I found more balanced between the fruit and the alcohol—it's elegant in the way that a woman on a Harley Davidson is elegant. (find this wine) The 2005, Rolland assured us, would be the best wine of the three but at this point I was surprised by its monochromatic heft that made me want to sing "oh tannin-bomb." He said that it would settle down quickly since it was just bottled 2 months ago. (find this wine)
The 2003 Bordeaux wines were stylistically different and varied. The Ch Pey de la Tour has a rich style but had a light minerality that the Argentines lacked. (find this wine) The Le Bosq is a serious wine with notes of leather, dark fruit, beef drippings and vanilla. It made me say "mmm, Bordeaux." (find this wine) The Ch La Garde is made in a lighter style that was oddly vegetal given the high heat of the vintage. (find this wine) The Ch Belgrave was solid though lacked the depth of the Le Bosq. (find Belgrave 2003)
Do you use American oak, came a question from the crowd?
"No, it's very peculiar. I don't like the taste." Rolland replied. "But that said, maybe we will look at it again soon since it is economically interesting."
Huh? I did not understand this sudden flash of economic rationality for the aesthete winemaker with the high fees. That's like saying you don't like McRibs but you'll eat them because they're $0.99.
So, returning to the Mondovino criticism, does he have a one size fits all solution? The answer appears to be variation within a range. He seems to implement many of the same practices in the vineyard—thinning leaves, reducing yields, and picking late—wherever he goes. He was adamant that while some Argentines are trying to improve their wines with the use of small oak barrels but they had not done enough to lower their yields.
And he no doubt has many similar practices in the winery, though he was less forthcoming about those. But the wines I tasted were different across regions and across vintages.
He is clearly a man of strong views, moderated by a sense of humor, and a love of Argentina. He loves the free reign that his investors have given him in Clos de los Siete and he loves the freedom that Argentina gives him to plant however and whatever he wants. "I am a blender—I love to blend." He's mixing it up in the wine world.
* * *
The following day, Rolland appeared on the Leonard Lopate Show on WNYC. Listen here.
See my photos from Argentina, including Clos de los Siete.
Related: "Malbec match-up" [Dr. V]
tags: wine | Michel Rolland | Clos de los Siete