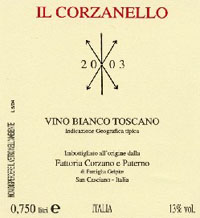 Il Corzanello, Corzano e Paterno, IGT Toscana, Bianco, 2005. $14 (find this wine)
Last fall I recommended an Italian white as a great late-summer/early fall wine. This year I stumbled on another: Il Corzanello.
Mrs. Vino and I were fortunate enough to stay at the renovated guest house of this producer a few years ago during a friend's wedding. About a half-an-hour outside of Florence in hills of Tuscany lie the farmhouses of the "agritourismo." Down the dirt road lined with olive trees and around the corner on the opposing hillside is the winery. Their cheeses, which are not available in the US, are amazing. And the honey too. I had several cups of Illy espresso in the rustic kitchen to get over my jet lag. Almost every day since then, I have managed to find Illy somewhere–it blows Starbucks away.
But getting back to the Il Corzanello. The blend of mostly trebbiano and chardonnay sees no oak and no malolactic fermentation so it has great purity of fruit. The wine has wonderful concentration, with notes of minerality and crisp acidity, with a rich midpalate and a long finish. Although only 800 cases are produced, some is exported to the US. Try it with pecorino—in one of their guest rooms if you can!
Importer: Fleet Street Wine Merchants.
tags: wine | Tuscan wine