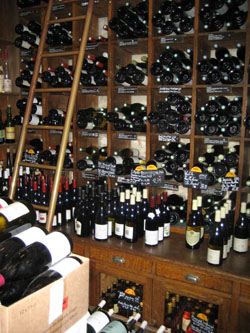 Caves Augé
Credited with being the second oldest wine shop in Paris, Caves Augé is on Boulevard Hausmann. It's not sandwiched between the big department stores on this famous street, but instead it is down the boulevard, around the traffic circle and on the less touristy, more neighborhoody, end of the grand boulevard.
The store is known for stocking many "natural" wines, particularly from the Loire, as well as older vintages from Bordeaux and beyond. Many of the producers represented are not exported to the US, which makes it a rewarding exploration for the visiting American wine geek. Tons of boutique bottlings of armagnac, cognac, sherry, vodka and other spirits cluster in one corner. Even though wine treasures abound in the small shop, not everything is beyond the reach of the budgets of mere mortals as there are many interesting wines available under $20.
But the wines may be beyond the physical reach of customers. The small shop is packed with excellent French wines. And I mean packed. The display tables are laden with their bounty and on the walls, wines are shoved into bins. I dared remove a wine from Provence to inspect the label and Marc, the store manager, barked at me in French from across the store "I'd prefer if you looked with your eyes and not with your hands." Ah, a customer service flashback to 1850.
One reason to go to Caves Augé is when you don't actually have to be in the cramped store (being scolded). During the spring and the fall, the store recruits many producers to come and pour their wines for customers. According to those who have been, it is a great event, casually sipping on the grand boulevard on a weekend afternoon, with some of the most interesting independent wine makers in France. Be sure to check with the store to see if your visit coincides with one of these days.
Caves Augé
116, Boulevard Hausmann, Paris 75008
Tel: 01.45.22.16.97
Open 9 AM – 7:30 PM. Closed Sunday and Monday mornings.
Manager: Marc Sibard
tags: wine | Paris wine shops | France travel