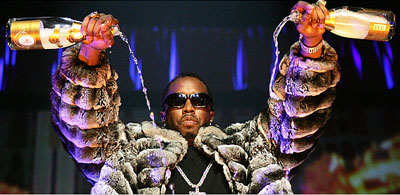 No that's not Andy, the quiz winner, dumping his new liquid assets. That's a hint for question #8 (granted, it's Diddy in the photo).
Congratulations to Andy in St. Paul, MN who won the half-a-case of wine in the Labor Day quiz! He's promised to share his tasting notes with us.
And congrats to Susan in Chicago who won the second prize, Perfect Pairings, by Evan Goldstein.
Thank you to the several hundred people who showed off their wine smarts. And thanks to those blogs and sites who linked to the quiz!
You can still take the quiz–or cut straight to the answers–but the prizes are now gone.
Stay tuned for the next one!