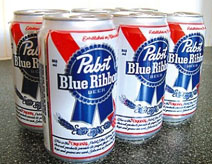 Pabst Still Coasting On 1893 Blue Ribbon Win
-The Onion
So what's wrong with the 1855 classification of red wines from the Medoc? We can sum it up succinctly: the Pabst problem. It's resting on its laurels.
The classification was a snapshot and not a moving picture. Several houses riding high in 1855 have since plummeted or been acquired by others. One chateau, Mouton-Rothschild, headed the other way and was promoted to first growth status as recently as 1973, the first and only change to the system cast on parchment.

But over on the Right Bank, they've got a moving picture. Granted, we're talking one frame per decade but at least that's more dynamic than over in the Medoc.
The wines of St. Emilion (see dark purple on map) were first classified only in 1954. Unlike the 1855 classification with 61 properties distributed over five "growths," or classes, the St. Emilion classification divides 55 proprties into two categories of average and above average. Actually, that would be too humble: the two categories are mere "great growths" (42 chateaus) and "super great growths" (13).
Well, tomorrow is the big day for the announcement of the next revision. The big phenomenon in the region in the 1990s was the emergence of ultra-premium vins de garage that were not included in the last revision in 1996. More garagiste wine makers than you could shake a gigot d'agneau at have hit their stride since then. If the revision is truly dynamic, it should expand beyond the current 55 members and include some of the garagistes. Stay tuned for part deux tomorrow…
St. Emilion Classification, 1954 (1996 edition)
FIRST GREAT GROWTH CATEGORY A
* Château Ausone
* Château Cheval Blanc
FIRST GREAT GROWTH CATEGORY B
* Château Angélus
* Château Beau-Séjour Bécot
* Château Beauséjour (Duffau-Lagarosse)
* Château Belair
* Château Canon
* Château Figeac
* Château La Gaffeliere
* Château Magdelaine
* Château Pavie
* Château Trottevieille
* Clos Fourtet
GREAT GROWTHS
* Château Balestard La Tonelle
* Château Bellevue
* Château Bergat
* Château Berliquet
* Château Cadet Bon
* Château Cadet-Piola
* Château Canon La Gaffeliere
* Château Cap De Mourlin
* Château Chauvin
* Château Clos Des Jacobins
* Château Corbin
* Château Corbin-Michotte
* Château Curé Bon
* Château Dassault
* Château Faurie-De-Sauchard
* Château Fonplégade
* Château Fonroque
* Château Franc Mayne
* Château Grand Mayne
* Château Grand Pontet
* Château Guadet Saint-Julien
* Château Haut Corbin
* Château Haut Sarpe Saint-Christophe Des Bardes
* Château L'arrosée
* Château La Clotte
* Château La Clusiere
* Château La Couspaude
* Château La Dominique
* Château La Serre
* Château La Tour Du Pin-Figeac (Giraud-Belivier)
* Château La Tour Du Pin-Figeac (J.M. Moueix)
* Château La Tour Figeac
* Château Lamarzelle
* Château Laniote
* Château Larcis Ducasse Saint-Laurent Des Combes
* Château Larmande
* Château Laroque Saint-Christophe Des Bardes
* Château Laroze
* Château Le Prieuré
* Château Les Grandes Murailles
* Château Matras
* Château Moulin Du Cadet
* Château Pavie Decesse
* Château Pavie Macquin
* Château Petite Faurie De Soutard
* Château Ripeau
* Château Saint-George Cote Pavie
* Château Soutard
* Château Tertre Daugay
* Château Troplong-Mondot
* Château Villemaurine
* Château Yon-Figeac
* Clos De L'oratoire
* Clos Saint-Martin
* Couvent Des Jacobins
St. Emilion producers' union web site
tags: wine | St. Emilion | St. Emilion classification