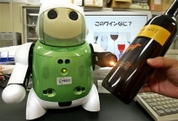 If you're at a loss for words when it comes to describing wine, you now have another choice besides reading a book or good old-fashioned trial and error: robots!
Yes, the 2-ft tall creature to the right claims to be able to tell good wine from bad and even discern particular wine brands. How about that for your next party trick?
There are only two problems standing in the way of this robot annhilating sommeliers and wine geeks in general. One: price. The AP reports one of the researchers who developed the robot as saying it costs "about as much as a new car," though they are trying to get that down to a more manageable $1,000.
Second: errors. From the AP story:
Some of the mistakes it makes would get a human sommelier fired — or worse.

When a reporter's hand was placed against the robot's taste sensor, it was identified as prosciutto. A cameraman was mistaken for bacon.
We're safe for now! But we must not let our guard down against these cyborgs in the cellar.
Image: AP