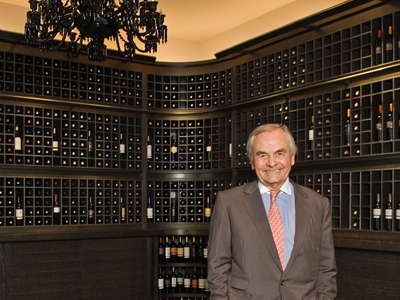 What's the multi-millionaire to do when collecting wines isn't enough? Why, collect wineries of course. Bernard Magrez made a fortune with the sale of his Bordeaux négociant house, William Pitters, and now has assembled a portfolio of 37 "micro-cuvees." They come mostly from Bordeaux and include such big guns as Chateau Pape Clement but also from places as far flung as Tunisia and Uruguay.
So for Bernard Magrez, the question becomes, what do you do when collecting wineries isn't enough? Since collecting cars doesn't always work (he had to return his Hummer when it didn't fit in his driveway in Bordeaux), the answer for him is to open wine shops.
His new Paris shop opened in July and another for Bordeaux is slated for the fall. The shops sell only wines bearing the Magrez signature—and they do almost all have his name on the label. Although there are 37 wines, the brand is clearly Magrez. The unseen signature in the bottle, however, is Michel Rolland, the renowned and controversial "flying winemaker" known for favoring big reds.
I dropped by the handsome Paris boutique a few weeks ago. In the high-rent district a stone's throw from the Opéra, the black exterior gives way to a mostly black interior complete with two chandeliers of black Baccarat crystal. Georges Bentet, the shop manager who has been a sommelier in both France and the US, greeted me and I asked him a bit about what's going on. He offers hour-and-a-half classes on wine appreciation complete with tastings from about five Magrez offerings. How are they going? So far, no takers.
The friendly Georges says that the wines are, surprisingly, more expensive at the shop than in supermarkets. Wait–supermarkets?!? Yes, some of these wines indeed appear in supermarkets. But what the shop offers, he says, is depth and breadth of the Margrez line. Want an older vintage of Pape Clement? Or a large format Fombrauge? This is where you can find them.
If you can't make it to this location, rumor has it that Magrez will be opening similar boutiques in other cities around the world.
Bernard Magrez, the boutique
36 rue St. Augustin, 75002 Paris
01.49.24.03.11
tags: wine | wine stores | Paris | Bernard Magrez