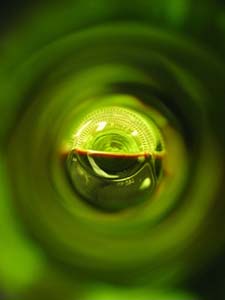 By Judith Hausman
After a blind tasting or a big party, every host has wondered what to do with those bottle ends. If you are as frugal as I am, you just can't bring yourself pour out that last glass of Laughing Magpie or Macon Lugny especially when it's so easy to put it to good use. Got leftovers? Think opportunity.
Obviously you can cook with it. Add that gulp of red to a barbecue marinade, a stew or spaghetti sauce. Or salt it and refrigerate it until that cooking opportunity presents itself, reducing the salt in your recipe. Deglaze a pan with it, along with a little grainy Dijon mustard and a splash of cream, to make a classic sauce for sauteed boneless chicken, salmon filets or veal medallions.
Or combine red or white wine with orange slices, strawberries, grapes and some seltzer for an impromptu sangria. Stir even Champagne into a Scandinavian-style, cold berry soup. Whir a mix of berries, the wine and additional water or fruit juice in a blender, sweeten (or not) to taste and serve with a dollop of sour cream or yogurt.
To transform the wine further and keep it longer, bring the leftovers to mother…a vinegar mother, as the starter is called. The word "vinegar" comes from the French "vin aigre," or "sour wine." Formulas vary but essentially, you will mix roughly 2/3 the quantity of any wine with 1/3 the quantity of white or cider vinegar in a clean jar, bottle or crock… and wait.
Depending on temperatures, alcohol content and acidity, you will have wine vinegar in about two to four weeks. Once a filmy substance forms at the bottom of your container, you have a mother. Some recipes suggest putting the container in the dark and covering it lightly. Some suggest keeping it in a warm spot to speed the process.You can then carefully decant it into another bottle. Or use the vinegar above the mother and then continue to add a new supply of wine to it, waiting after each addition for the vinegar to develop.
Once you have transferred the vinegar to another container, you can spike it with herbs, spices, citrus peel, berries or garlic. Steep sprigs of classic tarragon with lemon peel, a combination of basil leaves, garlic cloves and a few peppercorns or slender chili peppers, dried or fresh. In a decorative bottle, these vinegars are beautifully sparkly gifts too. Attach a tag with a reliable vinaigrette recipe.
Here's a last and favorite way to use up that red. You may have seen artfully wrapped Italian wine biscuits in specialty stores but they are not difficult to make at home. Elegant and not too sweet, the plump, crunchy biscuits pair well with a dry, assertive cheese, such as Parmegiano Reggiano or Asiago, before a meal or with coffee afterwards.
Wine biscuits
Adapted from They Called it Macaroni, Nancy Verde Barr (Knopf, 1990)
4/12 c. white flour
1/4 c. sugar
2 tsp. salt
1 Tbs. baking powder
3/4 to 1 c. vegetable oil, a combination of sunflower, olive oil or other
1 c. red wine
Pre-heat the oven to 350. Put racks on the upper third of the oven.
Sift the dry ingredients and then mix in oil and wine, kneading well to make a soft dough that does not stick, or using an electric mixer with a paddle attachment. If the dough is dry, the biscuits will crack.
Divide dough into 40 pieces and roll each gently into a 5" "snake," which you can then shape into rings or figure 8's.
Place them on an ungreased cookie sheet 2' apart and bake for 20 min. at 350 in the top third of the oven. Then lower the temperature to 300 and bake for 15-20 min. more or until golden.
Cool on a rack and store in a closed tin. Serve with aperitives and cheese or as dessert with coffee.
Image credit: Ha-Vi
tags: wine | vinegar | food & drink