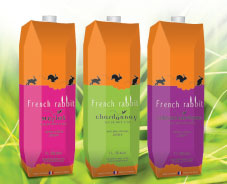 French Rabbit, Pinot Noir 2004. $10 – 1 liter box Find this wine
Sacre bleu—French innovation! Many commentators attribute the current state of malaise in the French wine industry to a lack of innovation and bad labels. This one-liter box should silence the critics. Bright orange, English language, and critter label (well, that's not the original part) all in packaging that will stand out on the shelf and weighs a fraction of glass. But what about what's inside? Well, you won't mistake it for Gevrey-Chambertin, but at least it is 100 percent pinot noir unlike many similarly priced California wines. It's fruit forward and soft tannins—in other words a great red for the summer picnic basket. And you won't even have to remember the corkscrew. Importer: Boisset America.
Commanderie de Peyrassol, Coteaux de Provence, rosé, 2005 $13 find this wine
The other day I had a rosé and it was no fun. Rosé is supposed to be fun. Besides the truncated flavor range, the price made it a further downer: $30. Yikes–talk about a buzzkill! So I was thrilled when, a few days later, I had this Peyrassol. Made by a mother-son duo in the hills of Provence, this wine from syrah, grenache and cinsault offers pale colors but alluring blend of rose petals and strawberry aromas give way to refreshing crisp acidity. Just what you need on the deck in Provence–in fact, a deck anywhere. Try this very food friendly with a range or foods from fish to spicy dishes. Shop around so that you don't over-peyrassol. Importer: Neal Rosenthal.
Pascual Toso, Mendoza, Malbec reserve 2004. $13 find this wine
On my recent trip to Argentina, the jovial Ernesto Toso picked me up in his beat-up sedan and drove me from downtown Mendoza to his family winery in the Barrancas area, about 45 minutes. Overlooking a dry river bed that had channeled into the ground like a miniature Grand Canyon, I tasted the line of wines made at the winery with Paul Hobbs from Sonoma, California as consulting winemaker. The real sweet spot in terms of quality to price was the Malbec reserve with wonderful aromas of dark fruits and a hint of vanilla to complement a luscious mouthfeel and soft tannins. The straight malbec (about $8) is a good approximation but spring for the reserve if your budget permits. Fire up the grill and pull the cork! I also tried the $100 Magdalena 2002 (find this wine), which was no doubt a powerful and serious wine but at that lofty price point I couldn't help but think about other wines I could have—or even nine bottles of the malbec reserve. Importer: TGIC imports.
Sorbus, cabernet/malbec, Mendoza, 2004. $6 find this wine
The other day a friend poured me some $6 Borsao, a wine that I discovered several years ago as a go-to value. Well, move over Borsao, here comes something meatier. A phenomenal value, this Sorbus displays the depth that a cab-malbec blend can give and has that same, crowd pleasing "ah" of the Ruca Malen Yauquen. I found it at PJ's Wine in Manhattan for the bargain price of $5.97. This is one to buy by the case! Importer: Mediterranean Wine Co, Dover, NJ.

Lucien Albrecht, Alsace, pinot blanc, Cuvee Balthazar 2005. $8 find this wine
Pinot blanc is the other, other pinot. It's not pinot noir. And its not even pinot gris/grigio. But it is worth checking out from this Alsatian producer. The light floral notes in this aromatic white are balanced with the crisp acidity somehow seem to make it a good choice for a mother's day brunch, one heavier on savory than sweet. Or it is great with a salad or hors d'oeuvres. Whatever you pair it with, it does pay to shop around since I found a range of $8 – $16 for it through online vendors for the previous vintage. Importer: Pasternack, Harrison NY.

Veramonte, Cabernet Sauvignon, 2003 $8 find this wine
That Chile can compete on price the world has known for a decade or more. But quality is increasing as well and when the two intersect, the result is something like this Veramonte. From Augustin Huneeus' vast vineyard in the Casablanca valley comes this Cab that you will want to buy in bulk for the BBQ this summer. The wine is widely available and has a lot of varietal character thumping soulless shiraz on neighboring shelves into submission. Franciscan Estates, importer.

Ruca Malen, Yaoquen, Cabernet Sauvignon/Malbec,
2004 $9 (find this wine)
When I greeted Mrs. Vino with a glass of this wine after she came home at the end of a long day last week she took a sip and said, "delicious!" I couldn't have said it better myself. This blend of Cab and Malbec hit the high points of the flavor arc (more on that here) for a low price tag. Inky purple in color, with blackcurrant and violets in the aromas, this lush and velvety wine is a guaranteed crowd pleaser whether outside by the grill or inside at the table. But you'll be laughing all the way to the bank since it is such a steal. Importer: Domaine Select Wine Estates, NY, NY.
Alta Vista Torrontes, Mendoza, 2004 $9 (find this wine)
The best white wine that I had on my recent trip to Argentina I had on the first day at Cabaña Las Lilas restaurant in the hip Puerto Madera area of Buenos Aires: Alta Vista Torrontes. And it kept popping up on the trip as I tasted it two more times (including at the winery with the 05) and loved it each time. "Aromatic" is a way that Torrontes frequently gets described but perfumed might be more accurate. White peach, honeysuckle blossom, perhaps even lychee conspire in an hugely rich and expressive aroma that is not for the faint of heart. The wine has crisp acidity and is totally dry (2g residual sugar) despite the vortex of aromas. While this wine is a little bit hard to find in the US, an able substitute is the Santa Julia Torrontes, which has wider availability (Whole Foods) can be found for as low as $6. Pair with Asian foods or try it as an aperitif. Either way, a torrent of flavor will be yours!

Pepiere
Muscadet 2004 $11. Find this wine
Marc Ollivier poured me a taste of this Muscadet a few days ago and after giving it the old swirl, sniff and taste, I cocked an eyebrow and looked at the price sheet. Whoa! I cocked two eyebrows! This crisp, tangy Muscadet was so refreshing and vibrant that it made me want to have grilled fish—and right away. The secret to the success in the glass comes not only from the vineyard but also from the winemaking: Ollivier leaves his wine on the lees right until his late bottling in May. This makes it more smooth and complex than the average Muscadet and a great wine for a midweek dinner. Importer: Louis/Dressner (NY).

Marc Ollivier, the man behind the Muscadet
Luzon Verde Jumilla 2004. $7. Find this wine
Verde in this case does not mean young—as with the Luzon and the Luzon Alto, this is more old-vine deliciousness from Spain. Verde here means organic complete with an image of a whimsical grass cutter on the back label. This old vine monastrell (mourvedre) is a jammy yet balanced glass that will thrill fans of big reds—especially when they learn the price! Importer: Jorge Ordonez, Dedham, MA.

See previous list of value vino