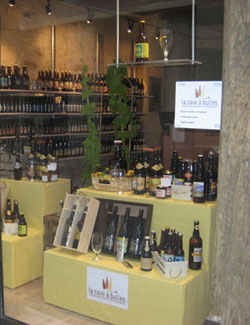 What do you do when it is 97 degrees outside and there's no AC? And combine that with stumbling on a new shop specializing in microbrews? There's only one answer: comparative beer tasting!
Walking along a narrow street not far from the Pompidou Center (Beaubourg) I found La Cave a Bulles, which had a strategic location right across from the Belgian cultural institute. The gregarious and knowledgeable Simon Thillou opened the store on July 18th and he has hundreds of "artisanal" beers in stock, mostly from France but some from Belgium too. Simon said that 20 years ago there were only 20 beer producers in France but that today there are over 200. Sure, it's not much compared to the number of microbreweries in the US, but it is still good growth.
So I put him to the test: give me four summer beers, two lagers, one white beer, and a fruit beer. This may seem kinda like trying to find the best burrito in France, but hey, the circumstances presented themselves.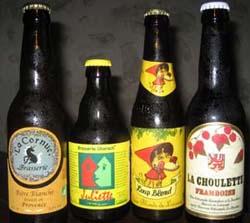 Sadly, the results were not good. La Cornue from Provence, the biere blanche was not a blanche as some others I've had (e.g. Hoegaarden) and had some aromas that were distinctly unusual, if not off. Juliette, the first lager tasted artificial, like the fake scents of a cleaning solution (pine). Loup blond, which has a great label, was sort of cidery and the least offensive of the tasting. Hardly high praise. Finally, the framboise again tasted artificial, and didn't cohere, like a mediocre lager with a shot of raspberry.
Perrier anyone? Despite these results, I would definitely go back and visit Simon again and try some more. After all, there are still 196 bottles of beer on his wall.

La cave a bulles, 45 rue Quincampoix, 75004 Paris tel: 01 40 29 03 69
tags: beer | tasting notes | Paris beer stores